I accepted a review copy of Speechless in Achten Tan, by Debbie Iancu-Haddad, through R&R Book tours. The book was also featured over on Sadie's Spotlight. So, you can hop over there for an excerpt, an interview with the author, and the schedule for the rest of the tour.
Sometimes Magic leaves you…Speechless!
Eighteen-year-old Mila hasn't spoken in the five years since she became an Onra, a first level Everfall witch. After failing the test to reclaim her voice and control her magic, her mentor sends Mila to Achten Tan – City of Dust – a dangerous desert town, built in the massive ribcage of an extinct leviathan.
To reclaim her power, Mila must steal a magical staff capable of releasing it, from the sky-high lair of the Bone Master, Chief Opu Haku.
Her only resources are the magical luminous elixirs of the cursed caverns where she grew up, and a band of unlikely allies; a quirky inventor, a giant-ant rider, a healer, a librarian's assistant, a Tar-tule rider and the chief's playboy son.
But in the City of Bones, enemies & friends are not who they seem and trusting the wrong person can be deadly.
If Mila fails she will never speak again and her bones may be added to the wasteland.
---
Review:
I have mixed feelings about this book. On the one hand, the writing is really quite good. The characters are likable. The world is interesting. There's some fun diversity in the characters. It concludes (no cliffie), and I see lots of room for expansion in future books. Plus, we have gnomes as main characters without it being all cutsie-cutsie! So, on that one hand, I really enjoyed it.
On the other hand, however, there seems to be a disconnect between the tone of the book and the actual events of the plot. The book feels like an older teen high school drama, of the 'who's going to win the big team rivalry,' or 'take down the school bully' sort. (I mean, I literally started to visualize Geb in a letterman jacket every time he slung his arm over Mila's shoulder or waist.) But the things happening in the story are literally life and death. This left the tension…not lacking, exactly, but discordant. Plus, every near-death felt jarringly out of place.
I liked the book enough to read the sample of book two at the end (something I don't usually bother with) and am interested in continuing the series. I liked Kaii a lot as a character, and I am interested to see what happens to him.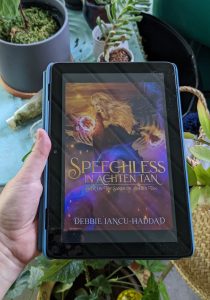 ---
Other Reviews:
#BOOKTOUR | Speechless in Achten Tan – Debbie Iancu-Haddad @debbieiancu @RRBookTours1 #RRBookTours #YAFantasy #Books #Teens #OwnVoices
Riss Reviews: Speechless in Achten Tan book review