I picked up a copy of Haley Weir's The Dragon's Midlife Mate on one of it's Amazon free days.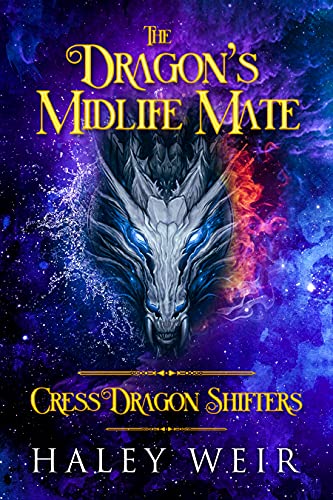 Welcome to Cress, a mystical small town with magic, mystery, and golden-eyed men…
Ariah
Who says you can't restart your life in your 40s?
I'm trapped in a loveless marriage. When my husband discovered that I'm a dragon shifter, he twisted my secret to keep me bound to him. He treats me like a circus animal. His prized possession.
It's time for me to dust off my wings and fly.
I packed my bag and ran. I didn't know where I was going, just that I had to get out of there. I left the big city and stumbled into a small town lost in time.
The last thing I expected was to run into one of my own kind. Zachary is a sexy-as-sin bartender with shimmering golden eyes.
But can I trust him the way my heart desperately wants to?
Zachary
I came to Cress as an orphan. The people of this small town took me in. They accepted me for what I am–a dragon shifter. They protected me.
And now I protect them.
I never thought I'd want anything more…until she shows up on my doorstep. She's scared and tired, but far from helpless. When her gaze meets mine, it hits me.
I'm staring into the eyes of my mate. And I'd do anything to keep her safe.

This simply wasn't very good. It's not sloppy bad, it's just all tell (no show), which creates a distance between the reader and the characters, and it has a really simple, shallow plot. Everything happens in a linear manner. This happens, which leads to this, which leads to that, and then this happens and then that happens. There are no red herrings, no mysteries, no need for characters to consider or figure anything out. Everything is presented on the surface and proceeds in an orderly (and there fore boring manner). There are also loads of inconsistencies, especially around time and distance. And the plot just makes no sense. Why Marko was allowed to do ANY of what he did when they had the power to prevent it? It felt artificial. No way I believe Zachary let that happen one chapter after we were shown him go all alpha male on Cornelius.
I'll be honest, I read the first half and skimmed a lot of the second half. And I'm not often a skimmer. I consider it cheating myself out of a book. But I just wanted to be done with this without having to give it much more of my time.