I accepted a review copy of The Rush, by Si Spurrier (Author), Addison Duke (Colorist), Nathan C. Gooden (Illustrations), Hassan Otsmane-Elhaou (Letterer), Adrian F. Wassel (Editor). It was also featured over on Sadie's Spotlight. So, you can hop over there for further information on the author and illustrator(s), the tour schedule, a guest post, and a chance to win a copy of your own.
ALL THAT GLITTERS IS NOT GOLD.
ALL THAT HUNGERS IS NOT HOLY.
ALL THAT LIVE ARE NOT ALIVE.
This Hungry Earth Reddens Under Snowclad Hills.
1899, Yukon Territory. A frozen frontier, bloodied and bruised by the last
great Gold Rush. But in the lawless wastes to the North, something whispers in
the hindbrains of men, drawing them to a blighted valley, where giant
spidertracks mark the snow and impossible guns roar in the night.
To Brokehoof, where gold and blood are mined alike. Now, stumbling towards its
haunted forests comes a woman gripped not by greed — but the snarling rage of
a mother in search of her child…

I'll admit that in the beginning of this graphic novel, I wasn't certain I'd like it. I liked the art from page one. But the plot and letter-writing narrative style took me a little bit longer to come around to. But by the end, I was fully invested and enjoyed it. Nettie was just the kind of bronze-balled bitch with a mission that I appreciate. There's symbolism, sacrifice, and a moral to the story.
Admittedly, the obsessive love of a mother for her son is a little cliched as a plot device, and I might have liked to understand a bit more of the hows, whys, and what nows of the whole situation. But I don't know that there would have been an elegant way to include it. So, I can't really complain on that front. All in all, I'd be happy to read more by this team.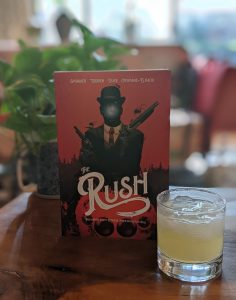 ---
Other Reviews:
The Real World According to Sam: The Rush