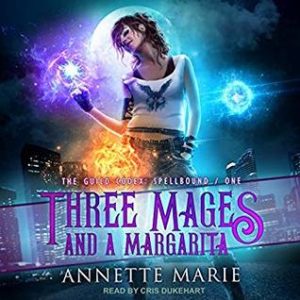 I borrowed and audio book copy of Annette Marie's Three Mages and a Margarita through Hoopla.
Description from Goodreads:
Broke, almost homeless, and recently fired. Those are my official reasons for answering a wanted ad for a skeevy-looking bartender gig.
It went downhill the moment they asked me to do a trial shift instead of an interview — to see if I'd mesh with their "special" clientele. I think that part went great. Their customers were complete dickheads, and I was an asshole right back. That's the definition of fitting in, right?
I expected to get thrown out on my ass. Instead, they… offered me the job?
It turns out this place isn't a bar. It's a guild. And the three cocky guys I drenched with a margarita during my trial? Yeah, they were mages. Either I'm exactly the kind of takes-no-shit bartender this guild needs, or there's a good reason no one else wants to work here.
So what's a broke girl to do? Take the job, of course — with a pay raise.
Review:
I quite enjoyed this; perhaps not for the reason the author intended, but I enjoyed it all the same. Have you ever seen the anime Fairy Tail? The IMDb page lists its synopsis like this:
Lucy, an aspiring Celestial Wizard, becomes a friend and ally to powerful wizards Natsu, Gray, and Erza, who are part of the (in)famous wizard guild, Fairy Tail.
Yeah, that's pretty much the exact plot of this book too. The similarities really don't stop there. The main mage in Three Mages and a Margarita is a pyro-mage. Natsu from Fairy Tail, his ability is fire. Ezra, the one from Three Mages and a Margarita (I have to clarify, because both the anime and the book have an Ezra), is an aero-mage (air). But every time he gets upset the temperature starts dropping. It gets cold….kind of like Gray from Fairy Tail, who uses ice as his element. I could go on.
So, while I did think the story was engaging and I liked Tory. Most of my amusement came from laughing every time I found something lifted straight from my daughter's favorite anime. (I like it too. Just maybe not as obsessively.) The book does lack a Happy. So, I'm waiting for Tory (or Aaron) to adopt some magical pet in a future book. And I'd be willing to read it, though if Annette Marie really did take such direct inspiration from Fairy Tail, I'd like to see her give the show's creators some credit.