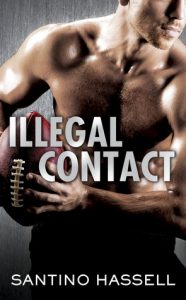 I received a copy of Illegal Contact, by Santino Hassell, through Netgalley.
Description from Goodreads:
New York Barons tight end Gavin Brawley is suspended from the team and on house arrest after a video of him brawling goes viral. Gavin already has a reputation as a jerk with a temper on and off the field—which doesn't help him once he finds himself on the wrong side of the law. And while he's been successful professionally, he's never been lucky when it comes to love.
Noah Monroe is a recent college grad looking for a job—any job—to pay off his mounting student debt. Working as Gavin's personal assistant/babysitter seems like easy money. But Noah isn't prepared for the electrifying tension between him and the football player. He's not sure if he'd rather argue with Gavin or tackle him to the floor. But both men know the score, and neither is sure what will happen once Gavin's timeout is over…
Review:
Gah, how to express my feelings about this book? If this was the first Hassell book I'd ever read I'd probably call it a 4 or 5 star book. Honestly, I think it's the best thing he's written since Sutphin Boulevard. But it's the twelfth book by him I've read, many in the last year or two, and I'm afraid I'm burning out. Because as grumpy-cute as Gavin was and mouthy-cute as Noah was, they sound and act exactly like too many of Hassell's other characters. It doesn't matter if we're talking football platers, school teachers, dock workers, band members, psychics or assassins a person just plain loses interest if they're basically given the same character in different settings, and that's how I'm feeling about Hassell's books lately.
And I know a lot of authors write to a formula. It's not necessarily a bad thing, but it makes it hard for a dedicated fan to maintain their excitement. Thus, here I am. Hassell is an auto-buy (or request) for me, but lately the books sit on my Kindle far longer than they should before I work up the gumption to read them. Because I know exactly what I'll get, the good and the bad.
So, if you like Hassell's past characters and you're someone who doesn't believe there can every really be too much of a good thing, buy this book. The writing is good, as always. The characters are cute. The sex is hot, a little kinky but it's not a kinky book. It stands alone; all good things. Just be prepared to confuse Gavin with most of Hassell's other alpha-grumps and Noah with other his mouthy betas.