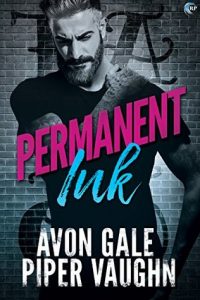 I received a copy of Permanent Ink (Avon Gale & Piper Vaughn) through Netgalley.
Description from Goodreads:
At twenty-three, Poe Montgomery is going nowhere. He still lives in his father's basement and spends most of his time tagging with his friends. When an arrest lands him in debt, Poe accepts the front desk job at Permanent Ink, the tattoo shop owned by his father's best friend, Jericho McAslan. Jericho is nearly twice Poe's age, but with his ink and prematurely graying hair, he quickly takes the starring role in Poe's hottest fantasies.
Jericho is known for his ability to transform poorly designed tattoos into works of art, but he was once as aimless and misdirected as Poe. Wanting to pay it forward the way someone once did for him, Jericho makes Poe his apprentice and is determined to keep things strictly professional. Easier said than done when Poe makes his interest—and his daddy kink—abundantly clear.
Jericho can't resist Poe or their intense chemistry for long. But between the age gap, tension with Poe's father, and Poe's best friend calling him a sellout, they'll need to ensure they're both on the same page before they can rewrite their rocky start into something permanent.
Review:
Good, but it didn't rock my world. I thought Jericho and Poe were a cute couple. But I also thought it went from sex to a relationship and love too quickly. When Jericho said, "We're dating," I thought, "Really, when did that happen?" I liked their little bit of kink, even if it isn't one I particularly relate to. The sex was hot enough, if a little same-same.
The side characters, Landon and Blue were interesting. I'd be happy to read more about either of them, though I'm fairly sure the next book will be about Blue and Callum. It was a pretty obvious setup.
Also fun for me was that the book is set on my home turf, Saint Louis, and the city was fairly recognizable. Even if the 'salty' and 'extra' language that seems to be popping up in M/M books lately isn't anything I've ever heard a youth actually say in The Lou.
My main complaint is that I never particularly came to like Poe. I understand that he is supposed to be a 'brat' to compliment Jericho, who is the 'daddy,' but he just basically annoyed me.
So, good enough that I will read book two, but not making my favorites list.