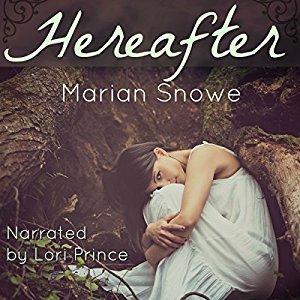 I received a copy of Marian Snowe's Hereafter through AudioBookBoom.
Description from Goodreads:
Detective Samantha Easton has always thought of herself as an adaptable person. But when she nearly dies after being shot on the job, Sam discovers something totally at odds with her rational, analytical personality: she can now see the spirits of people who have died, and she's not finding it easy to adapt. 
As if the sudden appearance of ghosts on the streets of Boston and her dead great-grandmother's curious questions about her love life aren't enough, Sam is being haunted by a mystery woman. This beautiful ghost, Mae, has no memories and is unable to move on from this life to whatever comes next—and she wants Sam to solve the mystery of her death. 
Sam readily accepts the case, happy to get back to doing what she does best. There's only one problem: falling in love with Mae wasn't part of Sam's plan. 
As the two women unravel Mae's secrets, they fall deeper in love with one another… But how can a ghost and a living person live happily ever after?
Review:
This was a pretty good f/f, ghost romance. It had a bit of a secondary mystery plot-line. I don't feel it was solved adequately, so I'm not calling it a romantic mystery. I liked both Mae and Sam, and they were sweet together, even if the romance was a bit insta-love. I adored Sam's investigative partner Patrick though.
The writing was pretty good, clean and easy to understand. Though the narrator, Lori Prince had a couple stylistic quirks that, over the course of the book, started to really irritate me. But they might not annoy other people. They really were about style, not quality.
[Mild spoiler] My biggest complaint here is that you never learn how or why any of it happened. There's a connection to something from the past, but you never learn if there's a reason for it. That whole aspect of the plot is never addressed and the book felt weaker for it. Without solving that particular mystery, the book was only left with the romance, which was fine, but why set up a mystery if you're not going to solve it?