I purchased a copy of Selina A. Fenech's Darkness Unknown. In fact, I tried to see if the author offers signed copies on her website, because I wanted a copy of that cover to keep. Unfortunately I found no evidence that she does. Bummer.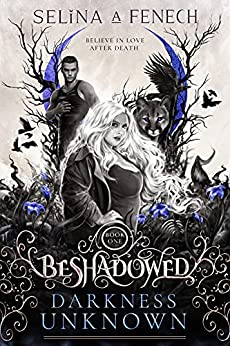 You have been lied to.
Werewolves, vampires, ghosts … they aren't what you think.
After the death of her mother, Everly Boderleth has to go back to her spooky hometown, Shroudhaven, and she has a plan to get in and out as quick as possible.
Step one, clear out the family home and antique store.
Step two, watch her childhood sweetheart die violently at the hands of an indescribable, horrific creature.
Wait, what?
That wasn't part of the plan. But it was just a dream, wasn't it?
As the evidence mounts that what she saw was real, a broken heart is the least of her problems.
Everly thinks she's close to the truth, but nothing is as it seems.
What is really lurking in the dark?

I purchased this book, after seeing it on Instagram, based on the cover alone. Let me tell you why. There is a full figured woman on the cover and nowhere in the description is it made an issue of—neither in the fetishistic Big Beautiful Woman way nor in any sort of apologist, lack of self-esteem way. I had high hopes that the image was simply the character's body and there need be nothing else said about it.
And you know what? Darkness Unknown delivers on that front. Everly's body just isn't an issue in the book. Let me say that again. Her full figured body got to be on the cover and it's not a plot device. It just is. She just is. I love that so much! I can not emphasize how rare this is.
The rest of the book is passable. I'd call it OK. I liked Everly, but she's a little bland. I loved Harper, with her utter loyalty and non-plussed response to discovering the existence of the supernatural. But the love interest, Rylan, is completely characterless throughout the book and the plot barely gets started here before the book ends.
Having said that, I'd read more of the series. I'm not loving it yet, but I see opportunity for it to grow on me…maybe grow to deserve that pretty cover.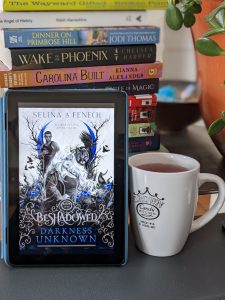 ---
Other Reviews:
I Wish I Owned a Bookstore – ARC Review: Darkness Unknown