It was chore day, so I wanted to listen to an audiobook while I slogged away at them. But none of the ones I have on my Audible cloud looked appealing. Thus, I borrowed Sarah Gailey's Magic For Liars from the library.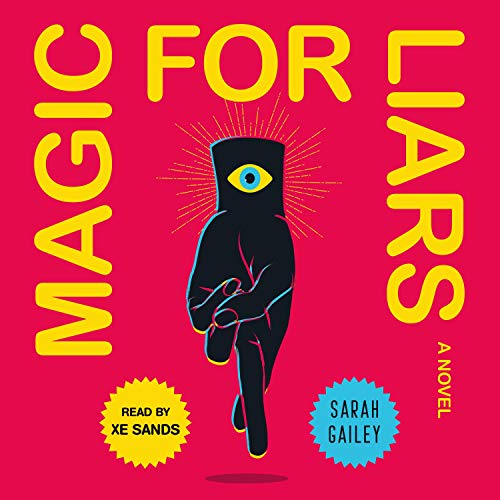 Ivy Gamble has never wanted to be magical. She is perfectly happy with her life. She has an almost-sustainable career as a private investigator, and an empty apartment, and a slight drinking problem. It's a great life and she doesn't wish she was like her estranged sister, the magically gifted professor Tabitha.
But when Ivy is hired to investigate the gruesome murder of a faculty member at Tabitha's private academy, the stalwart detective starts to lose herself in the case, the life she could have had, and the answer to the mystery that seems just out of her reach.

I'll admit that this was a tad on the slow side, but I generally enjoyed it. And I'll tell you what I liked about it. I too am a salt-n-pepper woman (like the main character). That makes me 43. I figure Ivy was a bit older, though it's not explicitly stated. She's stuck in a high school dealing with teenagers. I have an almost 14 and almost 12 year old. They roll they eyes at me constantly, and generally think they know everything and parents are idiots, as teens are wont to do. The teens in Magic For Liars are the same. And like adults everywhere, Ivy sees right through their act. But because she has a mystery to solve she uses her adult knowledge to get the information she needs. She doesn't posture and ensure the children know they're children. As is always so tempting when their mien of superiority gets to be too frustrating. She lets them go right on thinking they're the smartest people in the room. What parent hasn't had that feeling while dealing with their teen? Maybe because I too am stuck dealing with tweens/teens in my real like, I found her manipulation of them with their own artifices superbly satisfying.
I did feel sorry for Ivy. She wanted to desperately to be loved, not too unlike all those teens. But her sister just wasn't capable of it. I really hope the open ending, with the possibility of happiness on that front comes to fruition for her.
Interestingly, this could be read as a parable on the importance of providing access to safe contraceptives and/or abortions. There are certainly some interesting reflections of life and death, beginning, middle, and end of life going on in the book.
All in all, a winner for me.