Moon Scorned, by Marty Mayberry was featured over and Sadie's Spotlight and I was so taken with the cover that I picked it up for review from R&R Tours.
I fell hard and fast for the alpha of an elite pack.
Then he rejected me.
Everly
Asher took off when I needed him most, rejecting me and my inner wolf. Then my half-sister is murdered at an exclusive college that's enshrouded in magic and secrets. When the school offers me a scholarship, I accept and move onto campus. I'm going to find out who killed her, then rip them apart. And if I run into Asher while I'm there? He'll learn I'm no longer his sweet little thing. He's about to taste the fury of a wolf shifter scorned.
Asher
Everly's everything to me, but to protect her, I had to shove her away. If I go near her, the Drudge Pack will discover who she truly is. My father—their enforcer—will kill her. But when she shows up at Ravenmire College, my inner wolf hungers. I'll do anything to keep her safe—even if that means sacrificing myself and betraying my dangerous family.


I think that this book will appeal to a lot of readers. It's not a bad book at all. Everly is admirably willing to stand up for herself and shrug off mean-girl BS. Asher is sweet in his desperate desire to do the right thing, even as it hurts and he's scorned for it. There's an interesting world here and the writing is quite readable.
However, the book also starts out feeling as if there must be a previous book and then ends on a cliffhanger with absolutely nothing concluded. Here's my feeling on cliffies. It's one thing to wrap-up part of a story and leave some threads open for continuation of a story. The reader finishs the book with at least some sense of completion. It's another to publish part of a story, ending it with nothing concluded. Those are not the same thing. I have no interest in further committing myself to series that do the latter, because I just assume the next book and then the next book and the next will end the same and I have no faith in ever actually getting an ending.
However, none of this is uncommon and I doubt everyone is as annoyed by this as I am (since it's become a pet peeve of mine). If this doesn't bother you and you're looking for a familiar feeling academy(ish) YA/NA paranormal read this one is probably worth your time to pick up.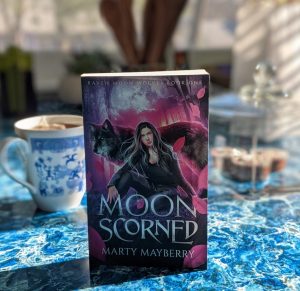 ---
Giveaway:
Win a copy of the prequel novella, Moon Hunted.