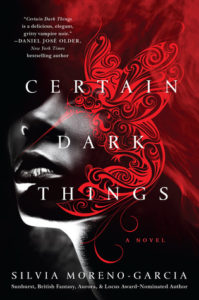 I borrowed Silvia Moreno-Garcia's Certain Dark Things from the library.
Description from Goodreads:
Welcome to Mexico City… An Oasis In A Sea Of Vampires…
Domingo, a lonely garbage-collecting street kid, is busy eking out a living when a jaded vampire on the run swoops into his life.
Atl, the descendant of Aztec blood drinkers, must feast on the young to survive and Domingo looks especially tasty. Smart, beautiful, and dangerous, Atl needs to escape to South America, far from the rival narco-vampire clan pursuing her. Domingo is smitten.
Her plan doesn't include developing any real attachment to Domingo. Hell, the only living creature she loves is her trusty Doberman. Little by little, Atl finds herself warming up to the scrappy young man and his effervescent charm.
And then there's Ana, a cop who suddenly finds herself following a trail of corpses and winds up smack in the middle of vampire gang rivalries.
Vampires, humans, cops, and gangsters collide in the dark streets of Mexico City. Do Atl and Domingo even stand a chance of making it out alive?
Review:
I'm going to be honest. I picked this book up at the library based on the cover alone. It is gorgeous and caught my eye. The word vampire was there took and that's all she wrote. I too this sucker home.
This is a technique for picking out books that has often led me astray, but in this case it worked out just fine. I quite enjoyed Certain Dark Things. I mean, Mexican vampires, or more accurately vampires in Mexico City! The main character is from an ancient Aztec clan, but there are African, Canadian, European, Russian, Chinese and vampires from other places too. Ain't immigration grand? Not all of them represented in the book, but there are at least 10 subspecies of vampires.
One of the main character is a bisexual Latinx vampire, and the other is about the cutest 17yo boy you'll ever meet. Honestly, with his tendency to be uncertain in social settings and open, naiveté despite living on the streets, I wondered if he wasn't meant to be on the autism spectrum somewhere. But I think that might just be me, nothing in the book other than how I interpreted his behavior suggests this. Either way, I adored Domingo. Don't get me wrong, I liked Atl, but Domingo stole the show for me.
I wouldn't call this a romance, though I think it has romantic elements and a HEA of a sort. But I like it better for how it ended.
The writing is lovely and I really liked the voice a lot. My biggest complaint is that it is cliche to have a villain obsess over hunting a woman down to rape and torture because his advances were rejected. Yes, there's more to it than that, but that's a lot of what it boils down to and that's just motivation that's been used and used and used and used.
All in all, Moreno-Garcia is on my radar now and I'll be checking out more of her work.