I purchased a copy of India Amare's Queens and Monsters. I had a flight yesterday and allowed my daughter to pick out what I read. Based on nothing more than the covers, she chose Queens and Monsters for me.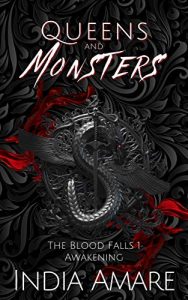 She is the enemy…and he is sworn to protect her.
Just out of sight exists a world of magic, vampires, monsters and royalty all on the brink of war…
Something Rhysa Smith knew nothing about until the sight of Draygus Wren's blood Awakened her. She's suddenly thrust into the middle of a lavish new world with powers she doesn't understand, a trail of lies and deceit she must untangle, and an unstoppable love for the monster who is both her sworn enemy and her sworn protector.

Meh, this was fine but I wasn't blown away by it. It ended on a cliffhanger, such that it felt like part of a story, rather than anything complete in and of itself. I did appreciate that Rhysa was quite independent, but I also felt like her self-defensiveness was overblown (or maybe not well enough supported). I liked Dray as a romantic lead, but I also didn't feel like the romance was particularly deep and I wasn't given enough meat to truly dig in. All in all, a fine read but not outstanding. I'd read another if I found it free or at the library. But I don't think I'd buy the next book.