I received an Audible code for a copy of Hide and Keep, by K. Sterling. I also happen to have a compilation of the first five novellas in the series. However, since I listened to this one and don't know when I'll read the rest, I'm going to go ahead and review it on its own.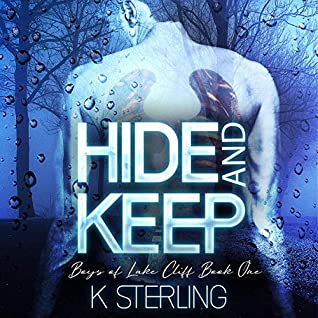 Description from Goodreads:
A scared, lonely past and a dangerous secret follow Dr. Aiden Sharp to the peaceful town of Lake Cliff, Illinois, when he arrives to testify in a murder trial for the district attorney.

Some heroes are built a little differently than the rest of us and some hearts love in a way we're not used to. Blood spatter and exit wounds make more sense to Aiden than a casual remark or a quick wink. Living faces and expectations have always been more of a mystery to Aiden than the cases he handles for the FBI because of his Asperger's but he's never let it stop him from getting what he wants. He wants Lane as soon as their eyes meet in the airport but Aiden gets a lot more than he expected when danger arrives with a text message and a threat he can no longer outrun. Luckily, Aiden finds a safe place to hide and learns he actually has a heart, he was just waiting for someone to teach him how to use it.

Detective Lane West is prepared to protect the gorgeous but confusing forensic psychologist from himself and just about anything fate throws at them. But what about Lane's heart? Despite his best intentions, Lane can't keep his hands off Aiden, keep it in his pants, or keep his heart out of it as soon as Mr. Morning After works his magic.

Passion and pancakes bring two lonely hearts together and an errand for the district attorney turns Lake Cliff upside down.
Review:
This started out roughly for me (both the actual book and the narration) and I wasn't sure if I was going to like either of them. However, they both quickly smoothed out and found their rhythm. I enjoyed them a lot by the end.
Granted, I have a strong suspicion that the representation of Aspergers Syndrom wasn't at all accurate (and I feel like that is a term not used anymore). But I also don't feel like it represented people with Aspergers in any sort of derogatory way. So I chose to accept that this is a fictional book with a fictional representative. Much as I did with the detective and forensic expert aspect of the book. Neither was well developed or integral to the plot.
I also felt the book went on a few chapters (and an epilogue) too long after the story came to a natural conclusion, and other reviews say there are editing issues. I can't say I noticed them in the audio version I listened to. All in all, this isn't a perfect book, but I'm awful glad to have a compilation of the first five books.