I received an ARC of K.J. Charles' Slippery Creatures from the author. I don't accept a lot of books for review anymore. I simply have too many already. But Charles is one of my favorite authors, so of course, I sought this one out. But with all the shuffling of books and such between the old computer and the new, this almost got lost. That would have been a shame and embarrassing.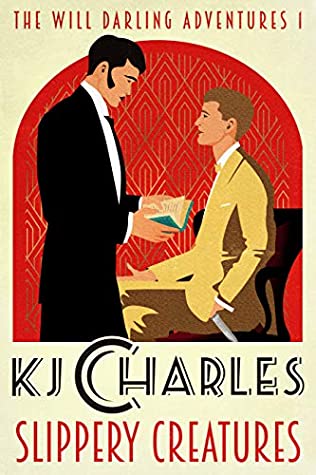 Description from Goodreads:
Will Darling came back from the Great War with a few scars, a lot of medals, and no idea what to do next. Inheriting his uncle's chaotic second-hand bookshop is a blessing…until strange visitors start making threats. First a criminal gang, then the War Office, both telling Will to give them the information they want, or else.

Will has no idea what that information is, and nobody to turn to, until Kim Secretan—charming, cultured, oddly attractive—steps in to offer help. As Kim and Will try to find answers and outrun trouble, mutual desire grows along with the danger.

And then Will discovers the truth about Kim. His identity, his past, his real intentions. Enraged and betrayed, Will never wants to see him again.

But Will possesses knowledge that could cost thousands of lives. Enemies are closing in on him from all sides—and Kim is the only man who can help.
Review:
I generally really enjoyed this. I adored Will and Kim, though I don't felt I knew Kim as well as Will since he wasn't a POV character. I wondered how the situation would be resolved until the end. The writing was marvelous as always and I look forward to more.

I only have one BIG complaint that keeps this from being rated higher for me. (Sorry this will be vague to avoid too many spoilers.) The synopsis refers to betrayal and I don't think many will be surprised by it. But afterward, there came a point that Will made a decision I couldn't accept. It's not that I didn't see how he might do it, certainly, Charles painted him into a corner and I could imagine a man doing what he did. But as a reader, I was still angry and didn't want him to. What's more, given his and Kim's last conversation, I wouldn't have expected a warm human welcome, but a professional one. So, the decision Will made and the action he took (while instrumental to move the plot along) didn't feel right to me.

All in all, however, I loved this.