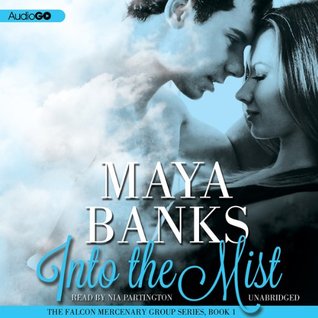 I borrowed a copy of Into the Mist, by Maya Banks, through Hoopla.
Description from Goodreads:
Hostage recovery specialist Eli Chance has a secret. He was born a shifter. A freak of nature.
While on a mission, Eli's men and their mercenary guide are exposed to a powerful chemical agent, and suddenly his secret has become easier to hide. Now he's not the only one with the gift. But for his men, this "gift" is becoming more and more of a curse.
Tyana Berezovsky's brother Damiano was the guide for Eli's team and was the worst affected by the chemical. As he grows increasingly unstable, Tyana fears she's going to lose him to the beast he is becoming.
Tyana will do whatever it takes to help him, even if it means using her body to go after the one man she thinks holds all the blame—and possibly the cure. Eli Chance.
Review:
Anyone who has read my reviews very often will have come across at least one in which I've said that I used to think I hated the romance genre and refused to read it. Then, one day, I Realized that it wasn't actually romance I hated but the gender representations common in romance books. I've learned that if I'm selective, I can quite enjoy romance.
Into the Mist is not one of those books. It is full of all the gendered BS that I hate and avoided for so very long. Tyana is supposed to be strong and talented and skilled, but she's a walking disaster of TSTL. Her primary character development is being a rape victim as a child. And sadly, that's more than anyone else in the novel gets.
The paranormal aspects of the book are so sketchy and poorly thought out that I finally just decided that they're there as window dressing to world the characters live in. And that world is so ill-defined that I didn't even know if shifters were out or not. So, basically the world existed simply to give the characters different places to have sex. And the sex wasn't even that hot.
All in all, as my first Banks book, I was disappointed. Additionally, the narrator did a fine job. However, I hated the fragile, breathy way she played Tyana. It only exacerbated my frustration with the book.