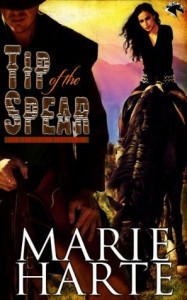 I grabbed Marie Harte's novel, Tip of the Spear from the Amazon KDP free list recently. Who wouldn't want to read something called an Amazon Western? It could have been anything and I was intrigued from the get go.
Description from Goodreads:
After people polluted the planet beyond recognition, the sky rocks came and reduced the world to rubble. Yet mankind refused to die, and the world was reborn. Welcome to the New West, where the Nature Laws rule.
1. Procreation is necessary, not optional
2. Women are a precious commodity
3. Harm the earth, lose your life
4. If it can eat you, it will
Welcome to the New West, where the Nature Laws dictate who lives and dies by the way they treat the land, carnivorous horses and blood trees are accepted mutations courtesy of the sky rocks, and the Impact Zone separates the earth-friendly territories of the West from a more sophisticated, steam-powered East. Women are rare commodities, living in extended families with more than one husband, and children are a necessity in a world where sterility is often the norm, not the exception. Life is full of challenge, romance and adventure. Something one courageous, wounded Amazon will find out first-hand.
Thais (Tay-iss) lost her mother, her queen, and most of her tribe at the hands of brutal foreigners, all while she enjoyed a respite from duty. But the young Amazon with vengeance in her heart refuses to lose anything else. She'll bring back the queen's stolen crown or die trying. Life in the Territories has its perils: the Nature Laws, carnivorous beasts, and treacherous men who survived the Time of Dying. One man in particular, a warrior in his own right, has an odd effect on her senses. She comes to desire him, to trust him, and she doesn't like it. Men are good for war and breeding, neither of which Thais has time for, not when she's so close to finding those responsible for the crown's theft. In the course of her quest, Thais finds much more than atonement for her troubled past, but a pure and lasting love, if only she has the courage to accept it.
Review:
I'm really torn about how I feel about this book. On one hand I really liked the story and the characters. Thais was strong and independent. I loved every one of the Dakota clan and the bad guys were all suitably evil in their own unique ways. I even appreciated the dystopian world building that Harte did. The environment was distorted and appropriately foreign, while still being geographically recognisable.
However, on the other hand, I had a really hard time actually reading the book. I'm not a prude and I like a smouldering sex scene as well as the next reader. Hell, that's why I picked up a book by Harte in the first place. But while I get that this is a predominantly male, post-apocalyptic culture and language may have taken a resultant nose dive, the language in the book is really coarse. I mean like "I want to fuck you," "fill you pussy," "pound your cunt," kind of crude (even when speaking to women who are apparently adored). What one likes or dislikes is, of course, an individual preference. For me this was not sexy, not sexy at all. It grated on my nerves endlessly that a strong Amazonian woman would allow herself to be spoken to in such a degrading manner, even if she didn't really know any better.
Further, before reading the book, the synopsis' rule number 2 (Women are a precious commodity.) made me think women might have a respected place in this society. That's actually a large part of why I chose to read the book now instead of letting it rest in the TBR list. I was disappointed. They were almost exclusively raped, shared, or whored. Unfortunately rule number 1 (Procreation is necessary, not optional.) might better read, sex is necessary, not optional. Women really didn't have a choice in the matter. Every single one of them felt like a sexual victim.
Now, there was plenty of sex to be had here, but there was plot too. So while I was uncomfortable with Hinto's language and the treatment of women in general there was quite a lot I liked about this book too. Hinto, was pretty darned sexy (pending he kept his mouth shut). He was big, strong, talented, kind, honorable, and falling hard for the girl whose independence he respected (even as his actions sought to hobble her). His internal dialogue as he tried to come to terms with his own complicated feelings for Thais were the best part of the book, followed closely by his interactions with his family. I also liked Beast a lot. You wouldn't expect a 'horse' to have much of a role to play, but he did.
There was a general theme of loyalty and the importance of honour and duty. This is something I always enjoy in a book. Tip of the Spear didn't disappoint in this regard. Those who were honourable took their responsibilities seriously. How could you ever fault someone for that? This extended to the importance of bearing children. I liked that the men were all really excited about the thought of fostering offspring. Sexy daddies…yum. 
I wish the next book (Bite of the Blade) was out. I'd give it a read. Once I've walked away from the series, however, I seriously doubt I'll ever remember to look for it again. Oh well, my loss I guess.