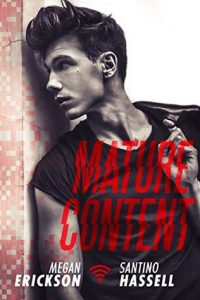 I received an ARC of Mature Content, by Megan Erickson and Santino Hassell.
Description from Goodreads:
My life plan is to be brutally honest all the way to the bank. Don't believe me? I run a popular YouTube channel called TrashyZane, and my claim to fame is oversharing about every aspect of my personal life. Sometimes while tipsy. Not everyone loves my style, but I have a long history of icing out people who can't handle me. I have no time for judgmental foolishness.
Except, apparently, when it comes to Beau Starr. His channel is the polar opposite of mine, and so is he. Wholesome, inspirational, and clean-cut. Everything about him should turn me off, but when we hook up following a confrontation at a convention, my world flips upside down. Not only does Beau Starr turn me on, he uses the exact combination of dirty talk and roughness needed to turn me out.
But we still hate each other. I think. 
Review:
I liked it more than Hard Wired and less than Strong Signal or Fast Connection. So, I guess I'm pretty middle of the road on this, as much as I adore Hassell and Erickson's writing. As always I found that writing lovely, if somewhat repetitive at times, and the sex was scorching. Plus, I liked that what they did together was characterized as 'mild kink.' I feel like a lot of authors write mild kink and then pretend (or honestly think) it's super hard core. I liked that they acknowledged that they weren't vanilla, but didn't pretend to be harder than they were.
The complaints I have are generally personal ones. In the first couple books I really felt like the characters were dealing with deep intra-/interpersonal issues. Here we have two people who just don't like each-other, but still want to have sex, plus a little bit of external drama. (See where the emphasis is?) Additionally, the first couple books were mostly about regular, relatable guys. Here (and in Hard Wired) we're dealing with, and in the head of pseudo-celebrities. (I've seen the same trend in Hassell's Five Boroughs series. They started out focused on blue color men and now seem focused on the rich and internet famous. I miss soldiers and dock workers and school teaches. That's a large part of what I loved about his books. More sensational characters doesn't necessarily mean a better book. I'm just saying.)
So, I didn't connect with these characters or their situations anywhere near as deeply as I have past ones and thus, didn't like the book as much. Now, not liking something as much as something else is a long way from not liking it. I liked the book just fine and recommend reading it, but I didn't love it. I will continue to follow the series and the authors though. Hassell especially is one of my favorite romance authors.