I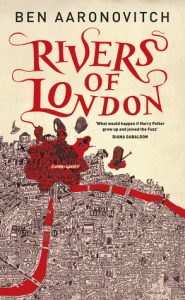 borrowed an audio version of Rivers of London, by Ben Aaronovitch from Hoopla.
Description from Goodreads:
Probationary Constable Peter Grant dreams of being a detective in London's Metropolitan Police. Too bad his superior plans to assign him to the Case Progression Unit, where the biggest threat he'll face is a paper cut. But Peter's prospects change in the aftermath of a puzzling murder, when he gains exclusive information from an eyewitness who happens to be a ghost. Peter's ability to speak with the lingering dead brings him to the attention of Detective Chief Inspector Thomas Nightingale, who investigates crimes involving magic and other manifestations of the uncanny. Now, as a wave of brutal and bizarre murders engulfs the city, Peter is plunged into a world where gods and goddesses mingle with mortals and a long-dead evil is making a comeback on a rising tide of magic.
Review:
I quite enjoyed this once I figured out that it and Midnight Riot are the same book. Why do publishers change titles other than to confuse readers? Anyhow, once I figured the title out, such that I realized it was the first of the series and picked it up, I enjoyed it. I loved Peter's sarcastic voice, the cast and the introduction to all of the magic creatures of London. Not to mention the descriptions of the city and it's rivers.
As an American I can imagine that Peter's casual references to race could be uncomfortable. But I have to say, after living in England for several years, the ability to acknowledge it without the instant assumption that it is meant to be racist was refreshing. I never sensed Aaronovitch was being racist simply because he acknowledge someone to be of Nigerian decent or Arabian or Traveler. Peter is supposed to be of mixed race, his mother from Sierra Leon and his father white English. It's not that it was always delicate or tactfully handled, it's just that it was matter of fact and benign; the character's insider perspective. Seeing a main character of color was nice in and of itself.
I laughed a lot in the course of this book and I was especially impressed with Kobna Holdbrook-Smith's narration of the audio version I eventually got my hands on. The obvious swallowing and the fact that some sections ended abruptly was annoying, but beyond that I thought it was an amazing rendition. In fact, despite having the next book in paperback already, I think I'll get the audio instead.