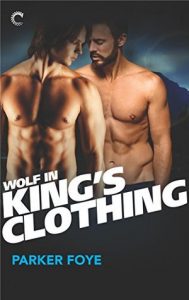 I received a copy of Wolf in King's Clothing, by Parker Foye, through Netgalley.
Description form Goodreads:
An exiled shifter. His alpha mate. And a desire so intense it could be the death of them…  
York, England, 1912  
Kent was a pack outcast. His shifter instincts cruelly muted, he was collared and kept as a stray. Until he was offered his freedom—for something in return. He must rescue Hadrian, an alpha held hostage in the wolf highlands. It's a pleasure for Kent to follow the captive's scent, one so wild and virile it gives him a rush. Though he despises being treated like a mutt called to heel, he'll gladly fall to his knees for an alpha like Hadrian. 
Hadrian has never met anyone like this damaged wolf warrior. His savior who licks the blood from his wounds and who arouses in him feelings he doesn't understand or want to control. But Hadrian suspects that more than desire binds them. It's betrayal. Pawns in an elaborate and feral deceit, they're now caught in the deepening maze of a vengeful shifter world, where navigating the mysteries of the heart could prove just as unpredictable and dangerous as the enemies they face. 
Review:
Here's the thing, I liked this book. I thought the pairing was cute and was all for their happily every after. But liking a book isn't enough to ignore the fact that it basically doesn't make sense. I've finished it and still have no idea what exactly was happening. Was it a power grab? And if so, was it against Hadrian or Kent's boss? Was Kent actually an outcast, as the blurb suggests? If so, when and why? What exactly happened at the end? How did Hadrian heal Kent? What of Hadrian's pack? Friend or foe? The plot was so full of holes that I couldn't follow the story. I liked the mechanical writing. I liked the characters. But the rest o the book was a mess.