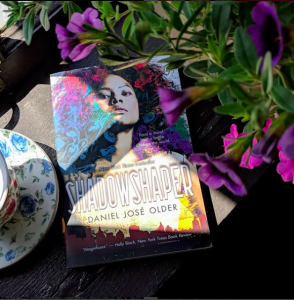 I bought a copy of Daniel José Older's Shadowshaper
.
Description from Goodreads:
Sierra Santiago was looking forward to a fun summer of making art, hanging out with her friends, and skating around Brooklyn. But then a weird zombie guy crashes the first party of the season. Sierra's near-comatose abuelo begins to say "No importa" over and over. And when the graffiti murals in Bed-Stuy start to weep…. Well, something stranger than the usual New York mayhem is going on.
Sierra soon discovers a supernatural order called the Shadowshapers, who connect with spirits via paintings, music, and stories. Her grandfather once shared the order's secrets with an anthropologist, Dr. Jonathan Wick, who turned the Caribbean magic to his own foul ends. Now Wick wants to become the ultimate Shadowshaper by killing all the others, one by one. With the help of her friends and the hot graffiti artist Robbie, Sierra must dodge Wick's supernatural creations, harness her own Shadowshaping abilities, and save her family's past, present, and future.
Review:
First off, that cover is beyond beautiful, just stunning!
Second, I love that the main character's heritage is from a Puerto Rico, but her friends and other characters are Haitian, Cuban, and from Montinique. It reminds readers that black and brown culture is a varied and important as white cultures.
Third, the narration and dialogue is wonderfully realistic. No one really speaks in fully formed, proper English all the time. Especially not those from communities where English isn't the only language spoken. I really appreciated this.
Fourth, as a prior anthropology student, I cringed to see the antagonist abusing the study as badly as they did. But the fact that what they were engaging in was basically the ultimate act of appropriation was not missed by me.
I truly enjoyed this book. However, I also found the plot moved too fast. Especially in the beginning, when Sierra accepted and acted on very little information. Additionally, there's a bit of a deus ex machina climax. But overall it's a win and I'll be passing the book to my daughter.