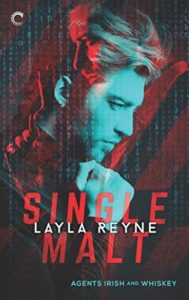 I received a copy of Layla Reyne's Single Malt from Netgalley.
Description from Goodreads:
Eight months after the car crash that changed everything, FBI agent Aidan Talley is back at work. New department, new case and a new partner. Smart, athletic and handsome, Jameson Walker is twelve years his junior. Even if Aidan was ready to move on—and he's not—Jamie is off-limits. 
Jamie's lusted after Aidan for three years, and the chance to work with San Francisco's top agent directly is too good to pass up. Aidan is prickly—to put it mildly—but a growing cyber threat soon proves Jamie's skills invaluable. 
Jamie's talents paint a target on his back, and Aidan is determined to protect him. But with hack after hack threatening a high-security biocontainment facility, time is running out to thwart a deadly terrorist attack. They'll have to filter out distractions, on the case and in their partnership, to identify the real enemy, solve the case and save thousands of lives, including their own.
Review:
Oh man, everyone seems to love this book and I just liked it. I mean, it was ok. Whiskey and Irish were fine characters, at least one of them was likable. The mystery wasn't super obvious. I guessed the culprit, but I wasn't 100% certain from the very beginning, which I am sometimes. The sex was fine. But none of it came together into something I just loved.
I was constantly confused why Whiskey and Irish were doing other people's jobs. Both cases they work are someone else's, though they seemed to be in authority. And when there were cyber attacks, it was Whiskey who countered them, despite the head of the institute's cyber security—who would undoubtedly know that system better than Whiskey no matter what kind of crack hacker he is—sitting beside him.
I never felt I got to know either character well, especially Whiskey. Plus, I just never bought him as this ex-basketball star, super hacker, who could cook and sing, is courteous, and great in bed. He was too perfect. The man had no flaws, other than his mystery love for Irish. Irish was a dick from the very beginning. Yes, he had reason and all, but what about him was Whiskey so enamored with? I never saw it.
There were a few passages in which I didn't know what was meant, but other than that the writing was fine. The editing seemed fine. The book was ok. It's not that I'm even saying I disliked it. I'd read another one. But it was just ok.