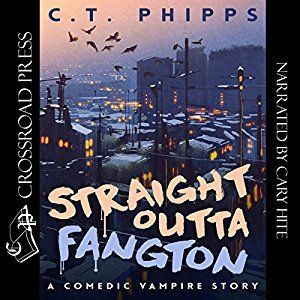 I received an Audible copy of C. T. Phipps' Straight outta Fangton through AudioBookBoom.
Description from Goodreads:
Peter Stone is a poor black vampire who is wondering where his nightclub, mansion, and sports car is. Instead, he is working a minimum wage job during the night shift as being a vampire isn't all that impressive in a world where they've come out to mortals. 
Exiled from the rich and powerful undead in New Detroit, he is forced to go back when someone dumps a newly-transformed vampire in the bathroom of his gas station's store. This gets him fangs-deep in a plot of vampire hunters, supernatural revolutionaries, and a millennium-old French knight determined to wipe out the supernatural. 
Sometimes, it just doesn't pay to get out of the coffin.
Review:
This was really quite good; funny in a witty, sarcastic way, with a widely diverse cast and entertaining plot. Cary Hite did a wonderful job with the narration, which only enhanced my enjoyment of the book.
Going in, I was a bit iffy about the main character being a black vampire and joking about this at times, with the author being white. There are jokes people can make about themselves and their own group that outsiders really just shouldn't. But I never felt Phipps was irreverent or insulting about his characters in any way. Peter and crew were marvelous!
I thought a lot of the geekdom references were funny, but I also thought they went a little overboard; too much of a good thing, if you will. Abut all in all, however, I loved this and hope for more.