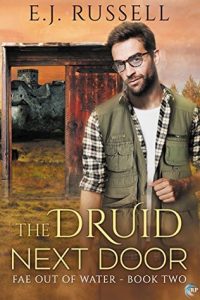 I received a copy of E. J. Russell's The Druid Next Door through Netgalley. I read and reviewed the first book in the series, Cutie and the Beast, last month.
Description from Goodreads:
Professor Bryce MacLeod has devoted his entire life to environmentalism. But how effective can he be in saving the planet when he can't even get his surly neighbor to separate his recycling? 
Former Queen's Enforcer Mal Kendrick doesn't think his life could get any worse: he's been exiled from Faerie with a cursed and useless right hand. When he's not dodging random fae assassins in the Outer World, he's going toe-to-toe with his tree-hugging neighbor. And when he discovers that the tree hugger is really a druid, he's certain the gods have it in for him—after all, there's always a catch with druids. Then he's magically shackled to the man and expected to instruct him in Supernatural 101. 
All right, now things couldn't possibly get worse. 
Until a mysterious stranger offers a drunken Mal the chance to gain back all he's lost—for a price. After Mal accepts, he discovers the real catch: an ancient secret that will change his and Bryce's life forever. 
Ah, what the hells. Odds are they won't survive the week anyway. 
Review:
This was cute in much the same way as book one of the series, but this one I had a hard time liking. In fact, I didn't. There is a real dominance and submission theme in it that I never got comfortable with. I considered it coerced. Period. Russell tried to dress it up as something else, but I couldn't get comfortable with the power dynamic. I considered it essentially slavery and was basically disgusted with it. I totally see that Russell was going for something else, but I never got there. Plus, it required about a 180 degree shift in one character's personality that I didn't at all feel believable and the second character I didn't feel I got to know well enough to judge, but it didn't feel right for him either. So, fail for me.
Outside of that issue, there is no romance (just coerced lust, IMO). The quest/mystery was amusing and I enjoyed that aspect of the book. But it was the smaller portion, to be sure. The writing and editing were fine, as far as I was concerned. I'm sure others will like it. I just couldn't.