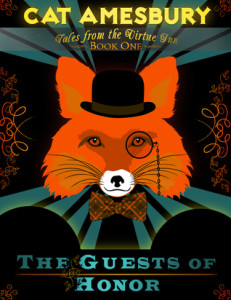 Author, Cat Amesbury sent me a copy of her book, The Guests of Honor. As we recently connected on Goodreads, this is also the first review of my month-long Taking Care of My Own self-challenge.
Description from Amazon:
A woman, a fox, and a magical inn
Honor Desry's only employee is a magical nudist, her guest list has an abnormal fascination with eels, and a surprising number of household objects are trying to hurt her. 
When Honor's mother mysteriously disappeared, Honor became responsible for both her younger sisters and the family inn. Now, all Honor wants to do is run the inn, pay the bills, and not get killed by her unusually violent toaster. 
Unfortunately for Honor, the Virtue Inn has more secrets than it does rooms and the Guests are restless. If Honor wants to keep her house –and her head- she's going to have to learn how to please The Guests of Honor. 
Warning: Contains some violence, profanity, innuendo, and semi-sentient household objects.
Review:
Oh, I just found this a marvellously imaginative ride. It ticked a lot of boxes for me and I truly enjoyed myself. In fact, my fist action after finishing it was rushing off to see if there is a sequel yet. (There isn't, though apparently there will be.) I could break down each of the individual pleasantries, but the main point is that the book is just a lot of fun.
I thought Honor had a wonderful voice, both as a narrator and as a character. She certainly lived up to her name. Then there was Kay…sweet, gentle, frightening Kay. I adored him. There were also a number of minor characters, but most of them were just background filler.
There are a lot of points left a little hazy, but I imagine it's intentionally so. I would have especially liked a bit more closure on the possible romantic front. Honestly, I like a little more clarity, but I can appreciate the stylistic difference here.
If I'm honest, there was a point when the book started to push my limits of believability (sentient egg timers and ambulatory tuber-men were just a little too much for me) but eventually I just decided to let go and roll with it. As a result, I was able to appreciate some of the ironic ridiculousness. And you really have to go into it with that sort of attitude, because as a reader you're given no time to rest and catch your breath. From start to finish, it's go, go, go.
The writing was a true joy to read (a lot of wit and humor) and it was fairly well edited. I noticed a few glitches, especially in the use of quotation marks. There were a few times when a single character continued speaking but the punctuation suggested a second person was contributing. This was particularly apparent when paragraph breaks were needed. It wasn't that big a deal though.
As a bonus, the book actually ends. This feels like a rarity in modern books. Though the last page or so introduces the next adventure, this instalment ends nicely.
As to the plot: Imagine Hayao Miyazaki's Spirited Away with a grown up Chihiro as the inn keeper and Haku as a fox deity instead of a water dragon and there you have it. That's the plot in a nutshell. (I kind of wonder if Amesbury doesn't have a Miyazaki thing, really, since the sequel is apparently going to involve a cat god and something similar also features to The Cat Returns, another Miyazaki film. I can't blame her. I love his films too.) Though unable to put my finger on exactly what it is that reminds me of Japanese mythology, I was definitely left with the impression that it contributed to the development of this story. Of course, as with any mere impression that could be completely wrong.
All in all, a rollickin' good time. Highly recommended.