For someone who has very little time to read, I keep constructing reading challenges for myself. But I like to get them down on paper when they occur to me. So, with that in mind, let me introduce you to my newest reading goal, the Romantic Mothman Challenge.
Yep, it's totally random. And I'll tell you how it came to be. But first, let me preface this with the fact that I've been very into Monster Romances lately. So, I was a little predisposed toward a cryptid challenge in the first place.

Ok, it started when I innocently downloaded a copy of Emory Moon's Canary and the Mothman from a Bookfunnel event. Then I got an email saying I'd won a copy of Paige Lavoie's I'm in Love With Mothman. (I don't even remember entering the giveaway. So, that was a complete bonus.)
Two books featuring the Mothman within a day or two of one another got my attention. So, I searched my considerable TBR to see if I had any more. Turns out I did have one—C.M Nascota's Sweet Berries. Three Mothman books; now I was well and truly invested.
Then, I picked up Vera Valintine's Carnal Cryptids: East Coast in a Stuff Your Kindle freebie event and, finally, I had a few dollars of Amazon cash. So, I bought a copy of Clio Evans' Doves & Demons. Though, I bet if I'd been a little more strategic, I could find that one at Hoopla and bought an additional one for the challenge. Too bad I'm thinking of that now.
Speaking of Hoopla, there are two more there that I could borrow. There is Peter Passenger and the Mothman, by Rafe Jadison, and Gateway Mothman, by Jay Noel, which also happens to be set in my city. (I've been meaning to do a Saint Louis reading challenge. But picking out all the books set in STL will take a lot more time than I have available.)
There's also an audio version of Wrong Side of the Storm. Book 2 in the Mothman Mysteries. But they don't have book one, so I'm not counting it. Besides, I meant to go by book titles, not series titles, anyhow.
Amazon tells me that there are quite a few more out there. But I generally form challenges as an incentive to read the books already on my shelves. I'm already stretching a little to include Hoopla books. So, I'm going to limit myself to these seven and only add to it if the universe tosses another free Mothman book in my path. (Feel free to facilitate that if you know of one. LOL.)
---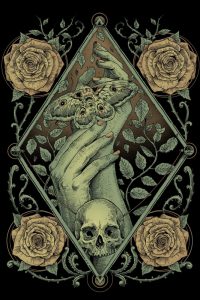 I decided to bring my reviews back here as updates rather than do a separate challenge wrap-up. so…
Reviews: