Every now and again, out of boredom or necessity or pure whimsy I set myself odd little reading challenges. That's part of the joy of having a book blog, I can do that. And I've done it again.
I have a book hoarding problem. I just do. Usually I can limit it to ebooks, so it's not too disruptive. But at the moment, my physical book shelves are stacked two deep and literally overflowing. My office is becoming a bit of a death trap. So, I have to read some of them.
The problem is that my Kindle is so easy to schlep around. Plus, I've promised myself that once a book is read I won't keep it unless it is signed or an absolute favorite. So, though I always want to read, I sometimes don't want to do the thing that means I have to give the book away afterwards. I know, it's weird. But I keep bringing books into the house, so now I have to set some free.
I mean, that was part of the point of building a Little Free Library in my front yard. Well, that and it's just cool. I have no excuse to not be filling it with finished books.
This brings me to my challenge. I went through and pulled out all the itty-bitty books. I don't usually pick up novellas, but I have several. And I know reading them won't clear as much space as reading some bigger books. But I figure each of them should only take a couple hours to read, so it's a good way to do a bit of a clear-out without committing weeks to the task. (Nope, I'm not rationalizing this at all.)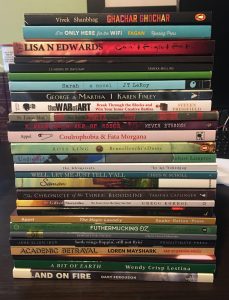 There are 18 little books there. Most, though not all I won and it's a pretty diverse pile. There's some bizzaro in there, as well as some inspirational stuff, a memoir, some non-fiction, humor, short story collections, horror, poetry, lit fict, political satire, even a freakin' play. I figure I can finish one a day for the next few weeks, along with my normal reading and feel like I've accomplished something significant. (Hush, that's what I'm going with.)
In case you can't read all the titles, the stack includes:
Ghachar Ghochar, by Vivek Shanbhag
I'm Only Here for the WiFi, by Chelsea Fagan
Can't Fight Fate, by Lisa N. Edwards
Infected, by Janine R. Pestel
12 Hours of Daylight, by Tameka Mullins
Mighty Coconuts, by Deepa Remesh
Sarah, by J. T. LeRoy
George & Martha, by Karen Finley
The War of Art, by Steven Pressfield
An Anthology of Regional Poetry, by Chris Hayden
I Died in a Bed of Roses, by Kevin Strange
Coulrophobia & Fata Morgana, by Jacob M. Appel
Brunelleschi's Dome, by Ross King
Undivided Lines, by Robert Lampros
The Whimsicals, by Mr. Bohemian
Well, Let Me Just Tell It All, by Chris W. Scholl
Saman, by Ayu Utami
The Chronicle of the Three: Bloodline, by Tabitha Caplinger
The Gifted Storyteller, by Gregg Korrol
Resistance, by B. R. Sanders
The Magic Laundry, by Jacob M. Appel
The "Wonderful" Wizard of Futhermucking Oz, by Matt Youngmark
Remedies For Vertigo, by Walter Bargen
Both Wings Flappin', Still Not Flyin', by Jane Ellen Ibur
Academic Betrayal: The Bullying of a Graduate Student, 

by

 Loren Mayshark
Reflection in the Music, by LaTara Moore
A Bit of Earth, by Wendt Crisp Lestina
Land on fire, by Fary Ferguson
The War of Art, by Steven Pressfield
Not pictured, but added to the challenge after the fact:
A Mother's Sin, by Mia Henry
Unveil my Millennium, by Eric Nimberger
Kaleidoscope, 

by

 Chip R. Bell
The Best Chronicles of Rubem Alves, by Rubem Alves/Glenn Alan Cheney
Neutral Space, by Rebecca Tran
Escape Routes, by Johann Christoph Arnold
The Inheritance, by Jacqueline Seewald
Morningstar, by Ann Hood
The Alpha Experiment, by Kyle R. Sullivan
We are Making the World a Better Place, by K. I. Hope

The Perks of Being a Wallflower, by Stephen Chbosky
Anyhow, between these, the book bundle I'm currently reading (Carole Cumming's Wolf's-Own), the bundle I'm listening to (Sarah Noffke's Vagabond Circus) and the Netgalley books I've committed to for the next couple months, not to mention I need to read review request book, I aught to be kept busy in the near future.
I think I'll start with B. R. Sanders book, because I've loved everything I've read by them so far. But beyond that, I'm open for suggestions on what I should move up or down the pile.