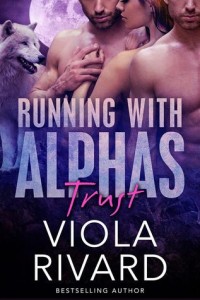 I picked up a copy of Viola Rivard's Trust: Running With Alphas from Amazon when it was free. It is part of my Alpha reading challenge.
Description from Goodreads:
Just when she thinks her life can't get any worse, Taylor meets alpha wolf Alder – the most caring, gallant, and handsome man on the planet. On the run from the police, there's no way she could possibly get involved with him. But somehow she does anyway.
Alder seems to be convinced that the two of them are going to live happily ever after in his mountain territory. But between looming pack wars, her dicey past, and his twin brother – the most obnoxious, sadistic, and handsome man on the planet – Taylor has a feeling that her new life among werewolves may be just as complicated as her human one.
Review:
This was surprisingly cute, which was a bit of a shock when I was expecting trashy erotica. But no complaints on that front. I have a soft spot for big alphas who shepherd, tend and fret over their mates, trying to feed them and such. Alder is just such a shifter, so he was a winner for me. I liked Taylor too, but Alder carried the book for me.
I did think the plot was a little shaky. You never find out the details of what Taylor is running from and I don't get the feeling we ever will. It's just a frame to hang the romance on. The characters were pretty shallow. The chemistry between the two wasn't really shown. The mishap with Hale was predictable, there is a cliched female enemy and it's a cliffhanger. But all in all, I was more pleased than I expected to be.