I won a signed copy of The Lady's Guide to Celestial Mechanics (by Olivia Waite) in a giveaway Rose Lerner was running on Instagram. I was super excited both to get this book and to get anything from Rose Lerner!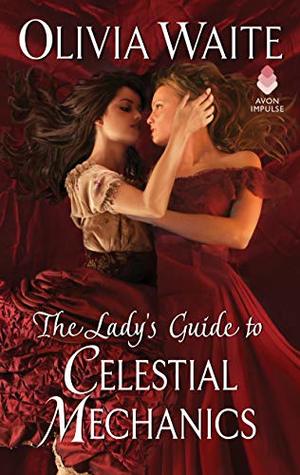 Description from Goodreads:
As Lucy Muchelney watches her ex-lover's sham of a wedding, she wishes herself anywhere else. It isn't until she finds a letter from the Countess of Moth, looking for someone to translate a groundbreaking French astronomy text, that she knows where to go. Showing up at the Countess' London home, she hoped to find a challenge, not a woman who takes her breath away.

Catherine St Day looks forward to a quiet widowhood once her late husband's scientific legacy is fulfilled. She expected to hand off the translation and wash her hands of the project—instead, she is intrigued by the young woman who turns up at her door, begging to be allowed to do the work, and she agrees to let Lucy stay. But as Catherine finds herself longing for Lucy, everything she believes about herself and her life is tested.

While Lucy spends her days interpreting the complicated French text, she spends her nights falling in love with the alluring Catherine. But sabotage and old wounds threaten to sever the threads that bind them. Can Lucy and Catherine find the strength to stay together or are they doomed to be star-crossed lovers?
Review:
I thought this was a really sweet romance. I liked both the heroines and the feminist plot. I did think the pseudo-villain's change of heart at the end was unlikely. I think his truer response in the circumstance would be embarrassment and anger. So, the sudden contriteness felt saccharine and artificial. But I saw why the author chose to do it.
My only real complaint with the book was that there didn't seem to be enough meat beyond the romance to really keep me interested. At one point, I set the book down to do other things and didn't pick it up for over a month. Now, I wasn't reading other books, I just didn't make time to read. (I've been working on my ebook cull, if you remember.) But the fact that this book sat there unfinished for so long attests to how little it held my attention if I wasn't actively reading it. I enjoyed it when I was and forgot about it when I wasn't.
All in all, not a bad read. But a perfect example of why I tend to lean toward X-romance (sci-fi romance, paranormal romance, romantic thrillers, etc. Normally historical romance works, but apparently it wasn't enough here.) I just seem to need a little something more.