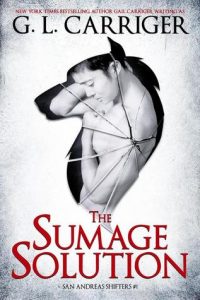 I purchased a copy of The Sumage Solution, by G. L. Carriger.
Description from Goodreads:
NYT bestseller Gail Carriger, writing as G. L. Carriger, presents an offbeat gay romance in which a sexy werewolf with a white knight complex meets a bad boy mage with an attitude problem. Sparks (and other things) fly.
Max fails everything – magic, relationships, life. So he works for DURPS (the DMV for supernatural creatures) as a sumage, cleaning up other mages' messes. The job sucks and he's in no mood to cope with redneck biker werewolves. Unfortunately, there's something oddly appealing about the huge, muscled Beta visiting his office for processing.
Bryan AKA Biff (yeah, he knows) is gay but he's not out. There's a good chance Max might be reason enough to leave the closet, if he can only get the man to go on a date. Everyone knows werewolves hate mages, but Bryan is determined to prove everyone wrong, even the mage in question.
Review:
I really quite enjoyed this. True, I thought some of the humor—fizzy jizz, spicy cum, etc—crossed the line into stupid-funny and made me roll my eyes and cringe, instead of laugh. And the endless banter sounded exactly the same, regardless of which two characters were actually bantering, which kind of sucked. But for the vast majority of the book I was thrilled. Bryan is one of the sweetest shifter leads I've read in a while and Max was a good pairing for him.
I've not read the prequel, but I was able to follow the plot and world easily. It does seem a well developed world, though it's just barely laid out here. I was left with a few questions, but not enough to be dissatisfied at the end.
There were a few editing mishaps. Maximilian, who goes by Max was named Mac on more than one occasion, for example. (Yeah, X and C are next to one another on the keyboard.) But it is pretty clean.
All in all, I was pleased. I'm always a little wary when M/F authors cross over into LGBTQ+ stories. But in the Carriger books I've read, she always had strong, positive queer characters anyhow, so she made this transition well. I'll be looking forward to more of The San Andreas Shifters.