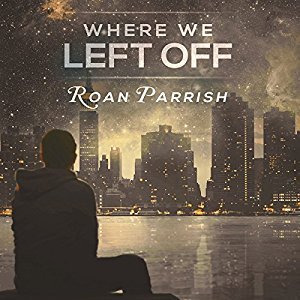 I won an Audible copy of Where we Left Off, by Roan Parrish, through Binge on Books.
Description from Goodreads:
Leo Ware may be young, but he knows what he wants. And what he wants is Will Highland. Snarky, sophisticated, fiercely opinionated Will Highland, who burst into Leo's unremarkable life like a supernova… and then was gone just as quickly.
For the past miserable year, Leo hasn't been able to stop thinking about the powerful connection he and Will shared. So, when Leo moves to New York for college, he sweeps back into Will's life, hopeful that they can pick up where they left off. What begins as a unique friendship soon burns with chemistry they can't deny… though Will certainly tries.
But Leo longs for more than friendship and hot sex. A romantic to his core, Leo wants passion, love, commitment—everything Will isn't interested in giving. Will thinks romance is a cheesy fairytale and love is overrated. He likes his space and he's happy with things just the way they are, thank you very much. Or is he? Because as he and Leo get more and more tangled up in each other's lives, Will begins to act like maybe love is something he could feel after all.
Review:
Much to my own surprise, this was my favorite of the series, so far. (I don't know if more are planned.) Part of this could be attributed to the fact that I listened to it in audio and Spencer Goss did a really good job with the narration. He was maybe a little overly breathy and there might have been a bit too much quiver in his voice, as if Leo were on the verge of tears the whole time. But mostly I thought it was excellently done and definitely contributed to how much I enjoyed this book. But I also just really loved the story of Leo and Will.
I'm not usually into New Adult stories, but this is apparently an exception. I love how much growth the characters went through, how well Parrish wrote college years, how expressive Will was without being communicative in the least, how verbal Leo was by comparison, the way both men could see completely different things in the same event, be injured differently. And I love that Parrish didn't cop out on the idea that monogamy isn't the end all and be all for everyone. The books ends with a happy for now that I like to pretend is a happily ever after, but the book importantly isn't claiming it is for sure.
I liked the first two books, though the second left me indignant and angry. But I really enjoyed this one.