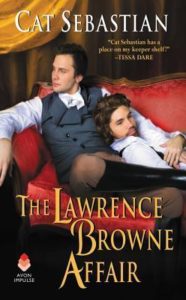 I borrowed a copy of Cat Sebastian's The Lawrence Browne Affair from my local library.
Desription from Goodreads:
An earl hiding from his future . . . 
Lawrence Browne, the Earl of Radnor, is mad. At least, that's what he and most of the village believes. A brilliant scientist, he hides himself away in his family's crumbling estate, unwilling to venture into the outside world. When an annoyingly handsome man arrives at Penkellis, claiming to be Lawrence's new secretary, his carefully planned world is turned upside down.
A swindler haunted by his past . . . 
Georgie Turner has made his life pretending to be anyone but himself. A swindler and con man, he can slip into an identity faster than he can change clothes. But when his long-dead conscience resurrects and a dangerous associate is out for blood, Georgie escapes to the wilds of Cornwall. Pretending to be a secretary should be easy, but he doesn't expect that the only madness he finds is the one he has for the gorgeous earl.
Can they find forever in the wreckage of their lives? 
Challenging each other at every turn, the two men soon give into the desire that threatens to overwhelm them. But with one man convinced he is at the very brink of madness and the other hiding his real identity, only true love can make this an affair to remember.
Review:
Another lovely read from Cat Sebastian. I thought the grumpy Lawrence and snarky Georgie were a wonderful pairing. I love that Sebastian didn't let the story fall into the normal rut of such stories, but had two men who were able to intelligently read each other. Such that the reader isn't presented with a lot of artificial drama that could have easily been avoided. There was drama, but not the over-wrought, "He's been lying to me the whole time. I obviously can't trust him or myself, bla, bla, bla" type that this particular sort of pairing so often brings about. Sebastian plays with that expectation, but in the end I found it really satisfying to see Lawrence, mad as he might think himself, continue to trust his own perceptions over those of another, even Georgie.
I like that Lawrence mastered his social anxiety (agoraphobia? autistic?) and other issues to rescue Georgie. But I like it even more that it isn't presented as if suddenly cured. What he did was hard for him and he never wants to do it again. And he's ok, even with his quirks. I did think the rescue came about a little too easily, but it was a feel-good kind of event more than a realistic one, for me. And, while Georgie's rescue of Lawrence might not have been as dramatic, it is undeniable all the same.
All in all, I simply enjoyed it and I look forward to reading Uncle Courtenay's book this summer.
On a side note: I borrowed this book from my local library in a normal mass media paperback form. Man, the margins were all over the place, including in the gutters. Such that some pages had outside margins, some didn't, with the words running right to the edge of the paper. Some pages had inside margins, and on other the words ran straight into the spine of the book. I don't know if libraries get different printings, but it was a bit of a mess.