I picked up a copy of S.W. Vaughn's Skin Deep from Amazon in the summer of 2017. Lately, I've been trying to read some of the books that have been buried in my kindle cloud. And Skin Deep is one such book. I think the book has since gotten a new cover, but this is the edition I have.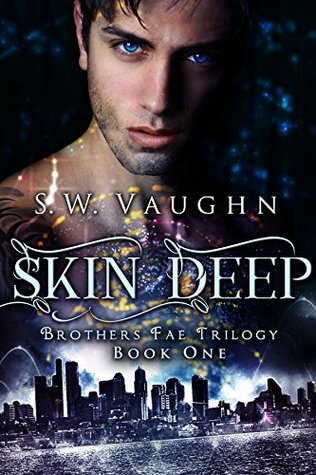 He knows everything about love… except how to find it for himself.
Will Ambrose hosts a popular LGBT relationship radio show, but lately he feels like a fraud. His own relationships have been anything but successful — a fact that his current partner, a sadistic closeted cop, has made painfully clear.
After his partner flies into a violent, jealous rage that leaves him battered body and soul, Will finds an unlikely savior in Cobalt, a smoking hot tattoo artist who offers shelter and healing. But Cobalt is hiding a devastating secret: He's not human.
A Seelie Fae banished from his realm by a jealous lover of his own, Cobalt has given up risking relationships with humans. None are strong enough to handle the truth. But Will is different, and Cobalt can't help falling for the man who's dropped into his life without warning and captured his heart.
Unfortunately, Cobalt's powerful ex-lover will stop at nothing to destroy his newfound happiness — and every moment he spends with Will is risking both of their lives.


I'll give this a pretty lackluster 3 stars. It's not that there's anything really wrong with it, there's just nothing especially right with it either. It's competently written with a follow-able plot, but it's all pretty shallow. The villains are crazy-pants evil, just for the sake of evil. No discernible motive or even enough control over themselves to be a believable villains. The lust is instant and mutual, and the love comes rushing in right on it's heels with no real feeling of having developed. The paranormal elements are interesting, but not deeply developed, etc.
I did have a problem with the torture porn and sex though. One character is beat unconscious and raped and literally begging for sex by the next day. I think probably both the physical and mental trauma would come into play to prevent that. Plus, Will is just too stupid for words when it came to Lyle.
All in all, I don't regret reading this but I'm in no real hurry to read the next in the series either.