I picked up a freebie e-copy of Jane Faith's Edge of Magic on Amazon, way back in 2020.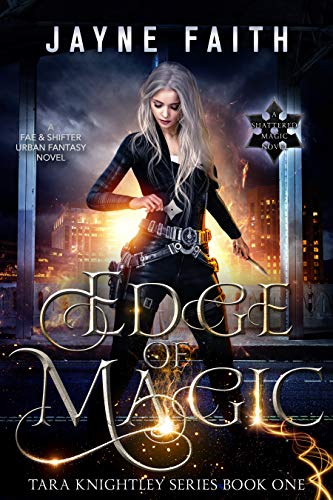 My name is Tara Knightley, and I'm on the Fae mafia's hit list. My childhood crush just rode back into town, too, and that may spell even bigger trouble . . .
My talent for sensing magical objects has made me a damn good professional thief for the past decade. But it's also what got me into a blood oath with notorious Fae mob boss Grant Shaw.
My relationship with Shaw is rapidly souring, and I need to break free before it turns deadly. The solution? I must steal a magic skull from Shaw's biggest rival and deliver it to him, and then he'll nullify our blood oath.
Just as I'm set to go after the skull, my childhood best friend and crush, wolf shifter Judah McMahon, shows up asking for help. It's been ten years since the falling out that ended our friendship, and I know I shouldn't get involved.
But Judah's life is threatened. How can I say no? The catch is, helping Judah will cost me the chance at freedom from Shaw . . . and possibly my life.

I have very middle of the road feels about this book. On one hand, I liked the characters, the world seemed interesting, and—barring a few editing mishaps—the writing is pretty good.
On the other, the plot meanders. There is quite a lot of time dedicated to things that aren't particularly plot relevant. (I'm thinking the knife throwing training session and, honestly, the whole sword side-quest.) It wasn't until the very end that something resembling an actual single plot appeared.
The love interest is supposed to be super regretful for leaving her a decade ago and we're expected to root for a re-ignition of romance. But I didn't feel it. He had 10 years to come back, or just call/text/email. He'd even been in town several times. But he never contacted her until he needed something. I don't feel any desire to see that romance bloom. How guilt-ridden and sorry could he truly be?
Further, I've gotten to an age that I'm just kind of done with plot in which women are in desperate financial straits and a man swoops in with his money/resources/connections and fixes everything for her. I think Faith needed to decide if she was writing a contemporary, second chance romance or a fantasy romance, because the whole Judah plot-line felt disconcertingly contemp romance and out of place in the fantasy plot. And it sure took up too much page time.
But worst of all, I'm 100% sick of reading books that don't end. A cliffhanger in which some threads wrap up and others are left open is one thing. This book literally just abruptly stops. I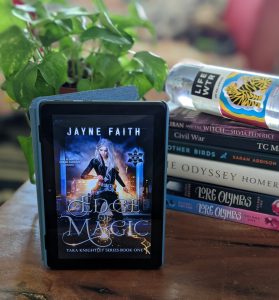 flipped the last page back and forwards because I hadn't sensed any sort of drawing to a close and basically felt like I walked into a wall with the sudden, "Look for Echo of Bone, the next book in the Tara Knightley Series by Jayne Faith!" In fact, the plot looked to finally be starting to settle into a single trajectory and ramping up. So, the precipitous ending felt especially unforeseen and jarring.
So, meh. I'd probably read the next book if I found it free. But I feel no need to go buy it.
---
Other Reviews: