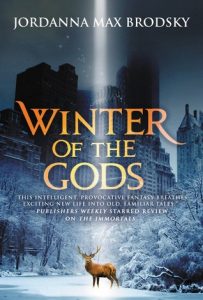 I won a copy of Jordanna Max Brodsky's Winter of the Gods
through Goodreads. I reviewed book one, The Immortals, last year (almost exactly a year ago, actually).
Description:
Manhattan has many secrets. Some are older than the city itself.
Winter in New York: snow falls, lights twinkle, and a very disgruntled Selene DiSilva prowls the streets looking for prey.
But when a dead body is discovered sprawled atop Wall Street's iconic Charging Bull statue, it's clear the NYPD can't solve the murder without help. The murder isn't just the work of another homicidal cult — this time, someone's sacrificing the gods themselves.
While raising fundamental questions about the very existence of the gods, Selene must hunt down the perpetrators, tracking a conspiracy that will test the bonds of loyalty and love.
Review:
I liked this one better than the first one, though I still wouldn't say I loved it. I liked Selene and her brothers, as well as Theo. But it grated on me that goddesses other that Artemis were always spoken of dismissively (as so and so's wife or mother, etc) and none were in the book. Why do even books with heroines as the main characters still never have women in them?
As in the first book, I didn't feel the romance fit. I couldn't see what Theo was attracted to in a woman who was so consistently rude to him. Plus, I disliked how fast he always was to leap on her if she was at all acceptive to sex. I don't mean to strip her of her agency and suggest he should refuse to have sex with her just because she's been a virgin for 3,000 years. But this is something she's maintained because it's been important to her, so, I thought a little more gravitas and a little less jumping on a bitch in heat would have been nice Because of this, I actually really appreciated the ending, as sad as it was. I hope Brodsky doesn't pull back on it in the next book.
The mystery is fairly obvious. I figured out who the villain was quite early, the first time they saw page time, as a matter of fact. But it's still interesting to see how it all plays out. All in all, not bad, but not my bag either.