I wanted a shortish audio book to listen to while I did chores this afternoon. While I have audio books I could have listened to, I decided to see if I could find one to download from the library that was on theme for my March reading challenge, which I have named the Awakening Challenge. I set out to read eight books titled Awakening. But, like with this one, I've been adding books. here and there I call them Bonus Awakenings. They may not meet the challenge criteria I set out exactly, or even if they do, I picked them up after I set the initial challenge. Christine Feehan's The Awakening is one such book.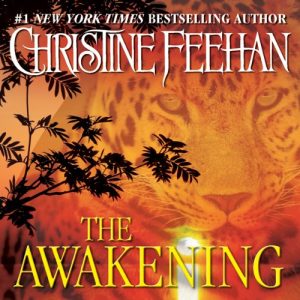 Maggie returns to the place of her birth and her world suddenly turns into a sensual, but dangerous delight. The rainforest holds secrets of her birthright and a mysterious man, as predatory as any of the animals, waiting in the very heart of the jungle for her arrival.
Under the blazing heat of the Borneo sun, a beautiful naturalist's dream comes true – to live among the feral jungle creatures. But an untamed, irresistible beast of another sort forces her to explore her own wild side.

This was fine for what it is. But it should be kept in mind that what it is is a bit of erotic fluff written over a decade ago. The Paranormal Romance genre has come a long way since then, but Feehan's The Awakening is an example of what it used to be. Heroes were meant to be predatory and virginal heroines swooned and became 'aware of their femininity' (code for sexuality) in their presence. It tiptoes awful close to the men-writing-women meme sometimes, even though it's obviously something else entirely. But the descriptions of all but anthropomorphized breasts can comes close.
There's not much to this honestly. The plot is just a backdrop to paint the angst and eventual sex on. The relationship is based on sexual attraction and the mythical shifter mate bond. It didn't light me on fire in any manner. But, again, it is what it is and should be judged accordingly.