I haven't done one in a while, but there have been several times over the years that I've noticed I have a bucket of books with the same title. Off the top of my head, I remember finding that I had 5 called Bound By Blood, 7 that included the phrase Blood Moon, 4 called Blood Lust…Geez, I don't think I realized they're all blood related. And because I enjoy finding unexpected patterns and reveling in them, I set these titles aside as reading challenges and read them all together.
I even did the same thing for a character model once, because I kept passing covers on my Goodreads shelves with the same face on them. I called it the Annoying Close-Up Guy Challenge.
I seem to remember not liking many of the books, but the challenge itself, all with essentially the same cover, was extra amusing.
Well, today, I'm setting a new reading challenge for myself. I recently read and reviewed Jennifer Leigh Pezzano's Awakening. And while I was hunting it up on Goodreads to cross-post my review, I noticed that I have a lot of book with the word Awakening in the title.
Between titles and series names I have 25 books that include the word Awakening. And that's just Awakening, not awakened, or awakens, or just awake. Now, some of these books I've read, one of them is on the Did Not Finish shelf, and I'm not prepared to commit to 25 books. (Here they are for reference though.)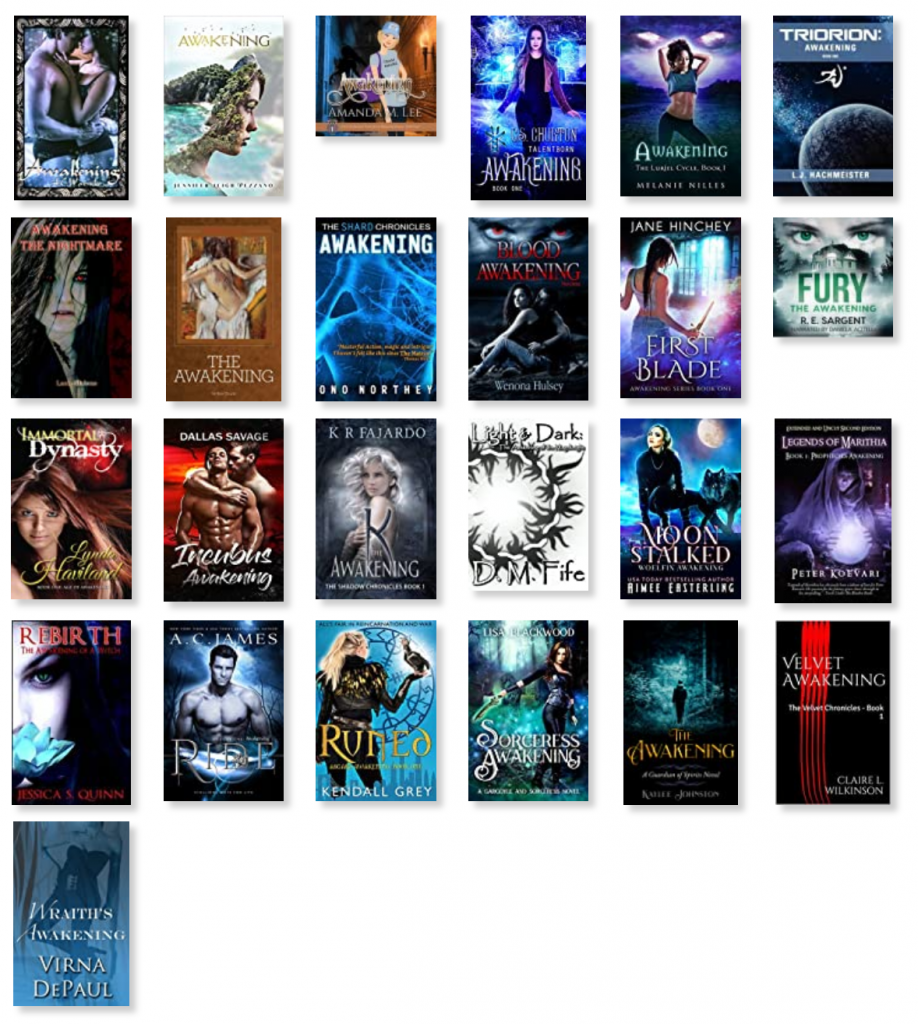 So, I'm going to whittle this challenge down to just titles that read Awakening and then stretch it a little to include the two called The Awakening (since they would be shelved as Awakening, The anyway.) That reduces us to 8 books, one of which is an audio book and one I've already recently read and reviewed, but I'm counting since it's what started this challenge in the first place. I actually feel really lucky that these are all either stand-alone or first books in series. How blessed is that?
So, that gives us (in alphabetical order by author's last name):
The Awakening, by Kate Chopin
Awakening (Talentborn, #1) by C.S. Churton
Awakening (Triorion, #1), by L.J. Hachmeister
The Awakening (Guardian of Spirits, #1), by Kaylee Johnston
Awakening (Covenant College, #1), by Amanda M. Lee
Awakening (The Luriel Cycle, #1), by Melanie Nilles
Awakening (The Shard Cycle, #)1, by Ono Northey
Awakening, by Jennifer Leigh Pezzano
I'll come back and link the reviews as I finish the books. I am not, however, going to force myself to read them back-to-back—which is what I usually do—because I already promised myself to spend March reading books from my physical bookshelves.
I read the first in a series on my Kindle last night and loved it. So, I'll read the next two I have on kindle too. But after that, I think I'm going to try and dedicate March to reading physical books I already own. #readinggoals #chippingawayatthetbr #tbrchallenge

— See_Sadie_Read (@See_Sadie) February 28, 2021
So, I'll start with the audio book (the Amanda M. Lee Awakening) since I need to fold laundry anyway. Then I'll start hitting the rest of these between physical books. That way I'm not breaking my March promise to myself completely…just bending it a bit when a new, shiny idea came along.
Am I the only one who does this? I know accidentally having multiple books with the same title can only really happen once your library gets past a certain point. I have literally thousands of ebooks, so it's less surprising to see this sort of thing happen that it would be if I owned 200 books. But still, anyone else set little mini-challenges for themselves?
Edit: Here is a link to the wrap-up post. I ended up reading 12, instead of 8, books called Awakening during the actual challenge. Then another three after the fact because it made me laugh to do so.