Juliana Haygert's The Darkest Vampire was featured over on Sadie's Spotlight. And while I didn't agree to review it for a tour, everyone who participated in any manner received a free ARC.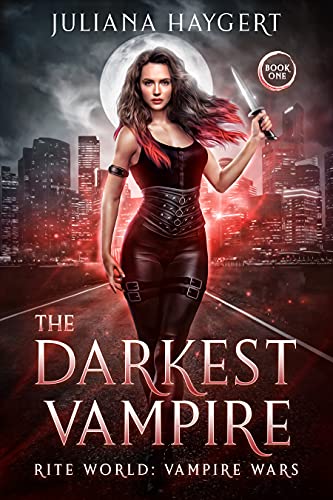 Supernaturals around Portland are turning up dead. I'm next … if the vampire I just made a powerful bond with doesn't kill me first.
Magic is in a short supply for a half-witch like me, which makes things very difficult when I'm bound by a blood promise to avenge my parents.
With no leads left to follow, I make a bargain with a demon for help. Bad decision. The quest the demon sends me on binds me to a vampire named Killian, a half-mad, half-naked monster who hates my guts almost as much as he longs to drink my blood.
Killian swore to kill all witches on sight, but we agree to work together to solve the murders ravaging the city. He despises me, and I can't stand him… but there's an unexpected connection between us, something I can't help but be curious about.
No, I can't let anything distract me. Not even a hot and enraging vampire who presses all of my freaking buttons. I'm determined to find my parents' killers, and stop the chaos taking over the supernatural world.
If only love didn't get in the way.

This was a big fat "Meh" for me. I think the author had an interesting idea, but the execution is just SO FLAT. The main characters basically run around reacting to things. The heroine has no agency of her own. (She's certainly not all bad-ass, like the woman on the cover.) The 'romance' barely fizzles. The villains, who have flat out murdered all the other victims, mysteriously choose to tie the heroine and her friends up and talk to them first. And that talk is the cliched mu-wha-ha-ha villain monologue where they tell their whole dastardly plan with basically no prompting. Then, they are vanquished far too easily.
I read an ARC. So, I won't comment on editing. The mechanically writing seems fine though. It's just the flatness of everything that lets the book down.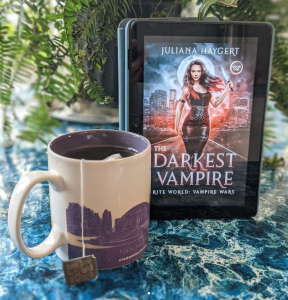 ---
Other Reviews:
Nicki J. Markus: Book Review Darkest Vampire