Last November, Janey King's Where We Begin was featured on Sadie's Spotlight. I later won a signed paperback copy.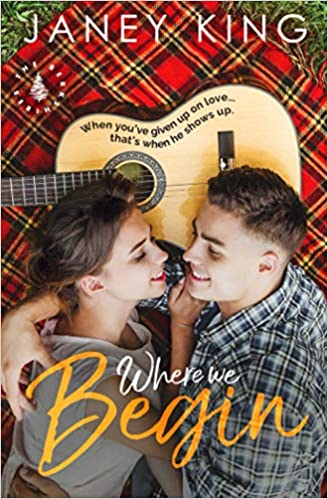 Fate never gives you everything you want. But sometimes, when you least expect it, you get exactly what (or who) you need…
Hannah's life has suddenly become a lot less. Jobless, homeless, and boyfriend-less, that is. Now, all she wants is a fresh start—and her sister's charming small town is the perfect setting for it. Finding a new romance is nowhere on her agenda. Too bad her heart (the stupid organ that beats a little faster every time her new boss is near) didn't get the memo.
Collin hasn't been lucky when it comes to romance, either. But knowing he's not cut out for love doesn't stop him from wanting his beautiful new employee with an intensity that terrifies him. He barely survived losing his fiancée. Losing Hannah…well, he's afraid there wouldn't be any coming back from that.
Can Hannah and Collin overcome the pain of their pasts—and the secrets they're both still carrying—to take a shot at happily ever after? Or are they destined to remain star crossed forever?
Where We Begin, book 1 in The Berkshires series, is a lightly angsty, sweet and clean, new adult contemporary romance featuring a down-but-not-out heroine and the beaten-but-not-broken hero of her dreams.

Before I get to the review, I want to add a quick note about the Christmas-ness of this book. It's absolutely irrelevant to anything other than the fact that I read it as part of my Christmas Reading Challenge. In the beginning of the book, the reader is told Hannah has come to stay with her sister through Thanksgiving and Christmas. The book runs up until early December and some pre-Christmas preparations —taking the babies for pictures with Santa, some minor indoor decorations, etc. The actual Christmas holiday isn't included and I would not say the book has any kind of holiday theme. As such, I almost took it off the Christmas reading list once I'd finished it. But, in the end, decided to let it stay, based on mentioning Christmas, my intent to read Christmas books, and not really wanting to invalidate my past list. But it's a pretty slim fit.


At best, I thought this was OK. But I thought it was only OK because of personal preferences kind of things, not because I think it's objectively a bad book or story. I just didn't love Hannah (I liked her, but in a 'meh' kind of way), and while I liked Collin well enough, I thought his wishy-washiness annoying. So, I wasn't super invested in their relationship.
The writing is pedestrian, but perfectly readable. My only complaint is that names are used too often in dialogue. But at some point, several years ago, I noticed authors doing this and have never been able to stop noticing since. So, I'm probably more sensitive to this than others.
King also has a bad habit of making every female not in the main characters' immediate friends and family circle an idiot or a predator. This is a huge pet peeve for me. Why do authors, especially female authors, fall into the misogynistic trap of subtly suggesting all outsider women cannot be trusted? (I'm not calling King misogynistic, I'm calling this subliminal social norm misogynistic.) In fact, the last couple pages of this book pretty much enraged me. It was such a cliched and over-used plot device.
All in all, I think those who really like clean, New Adult books will enjoy this. I thought it was OK, but not really for me.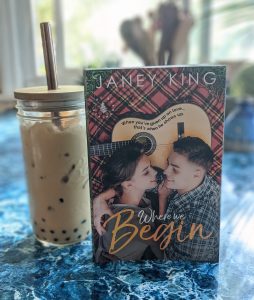 ---
Other Reviews:
Book Tour/Review: Where We Begin by Janey King
---
Be sure to come back tomorrow. I'll be reviewing The Remaking of Corbin Wale, by Roan Parrish.