Author, K.Panikian sent me a copy of Wild Rising (Yellowstone Shifters, #1) for review.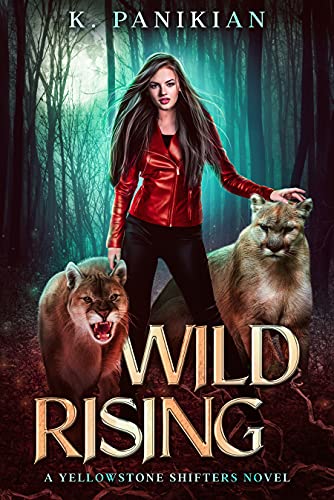 "My name is Sienna Wilder and up until about age 12, I thought I was human."
From a young age, Sienna learned to control the savage creature that raged in her heart. Swearing never to unleash the puma again, she kept her head down, her emotions level, and she survived.
Inside though, she yearned to find a place where she could roam free. Landing her dream job as a park ranger at Yellowstone, Sienna thinks she's finally found it, only to discover that she's not the only one with a secret beast. Now, women are disappearing and no one is paying attention. Sienna must discover the truth or she may be next. Can she learn to trust her wild side in time to save herself and the others?

I was really pleasantly surprised by this one. I liked Sienna and the other park shifters. I liked the world Panikian creates here, and I enjoyed the murder mysteries (though having two unrelated ones did dilute the plot a bit). I was also intrigued by the possible, future love interest. I can only imagine the series is going to be slow burn in the romance department. There is attraction here, sure, but not even the beginnings of a romance yet. So, don't go in expecting passion to leap off the page.
I did think that after a lifetime of dealing with fear and her beast Sienna sure overcame the issue with unbelievable ease. And I thought the possessive female betas warning off the new woman in town a little cliched. (Though having powerful, authoritative female betas was a plus in other ways.)
On a side note—just for FYI—I like the cover, but think it makes the book look YA/NA, like Sienna is an older teen. But she's a full-fledged park ranger. Her age isn't given, but to complete training and work in the field for a decade, I can only imagine her in her late twenties at least. I only mention it so people go in with appropriate expectations.
All in all, I'd be happy to read the next book in the series when it comes out. In fact, if it was available yet, I probably would have continued right into it last night, when I finished Wild Rising.