Veronica Douglas' Wolf Marked was promoed on Sadie's Spotlight. And when I received the book tour packet from Xpresso Tours, it included a free ecopy of the book. Though I didn't agree to review it for the tour, I did decide to read it. It's the first book titled Wolf Marked that I am reviewing for my mini Wolf Marked Reading Challenge. I'm reading three books with this same title.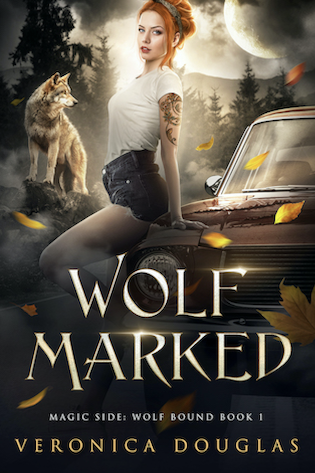 Werewolves are hunting me.
I was just an ordinary girl waiting tables in a small-town bar. I had no idea magic was real. That was, until I backed my car over a werewolf a couple times.
In my defense, the wolf was trying to murder me, and I was all out of mace.
Now I've got a cult of rogue wolves on my heels, and the only one who can protect me is Jaxson Laurent—the leader of the Chicago pack.
He suspects I'm special and can't take his eyes off me, but the problem is—he's the sworn enemy of my family. Every time we get close it feels like something is going to rip out of my soul, but the heat between us is irresistible.
With danger around every corner and wolves howling in the night, I need to master my magic and stand my ground, or I'll be dead before the next moon rises.
An action-packed urban fantasy, Wolf Marked features a kick-ass heroine, a dangerous hero, and a steamy slow-burn, enemies-to-lovers romance.
This story is set in the wider Dragon's Gift universe created by Linsey Hall, and if you enjoyed the archaeology, history, and daring in her books, this adventure is for you!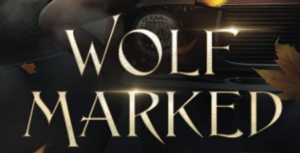 Review:
I largely enjoyed this, but thought it was a little unfocused; depending on the back and forwards between Sav and Jax to carry the tension. But I just felt a little whip-lashed between their supposed attraction and overt dislike of one another. I didn't particularly feel their chemistry. But I liked them both. I liked how independent Sav was and how willing she was to go out on her own. And I liked that Jax was legitimately trying to protect his people and Sav, even if he wanted to strangle her too. I also thought Casey was hilarious and appreciated the abundance of strong female pack members, especially since jealousy over male attention wasn't included as a plot device.
The book is set in a world created and opened by another author, Linsey Hall apparently. I suppose that makes this a spin-off of a sort and you feel it. Certainly, the death of Jax's sister felt like it is the plot of another book somewhere. I don't know if it is, mind you, but it feels like it is. The book is perfectly readable though, just kind of has that spin-off feel.
I found the villain easy to guess and the mystery around Sav is fairly obvious, even if we're not technically told what it is here in this book. Plus, there's some annoying repetition in the writing, All in all though, I had fun and will happily read another book in the Magic Side: Wolf Bound series.