Oh you guys, I found a new reading challenge. You know how much I love to build little reading challenges for myself!
I generally keep See Sadie Read and Sadie's Spotlight fairly separate, so that promoting books won't compromise the integrity of my reviews (or even give the impression of it). But lets be honest, I find a lot of new books over at Sadie's Spotlight and end up reading and reviewing them here. I mean, give an obsessive reader access to tons of new book posts and she's bound to find a few (hundred) that interest her.
Well, that's what is happening now. The idea actually started as a joke. I noticed that there had been three different books with the same title on Sadie's Spotlight within a short time of one another.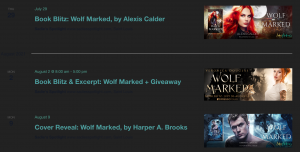 So, I took to Twitter to share the fun. And to my delight I wasn't the only one who was amused.
They absolutely need to duke it out

— Rhode Red masked indoors at public places (@rhoderedpvd) August 9, 2021
Well, when @rhoderedpvd agreed, seeing them "duke it out" seemed like an excellent idea after all…and feasible.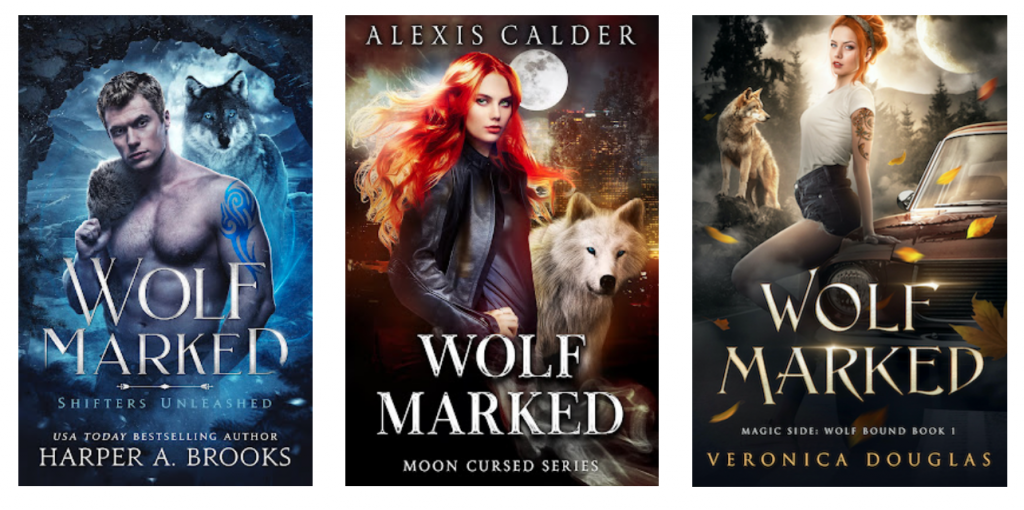 I already had a copy of Veronica Douglas' Wolf Marked, as Xpresso Book Tours included a copy with the tour material, and I was able to buy a copy of Alexis Calder's Wolf Marked. That only left Harper Brooks' Wolf Marked as a hold out. It isn't actually released until Sept. 9. But, Lady Amber's PR came through with a review ARC. So, this reading challenge is on.
Here's how they break down. All are in the Urban Fantasy/Paranormal Romance arena. Calder's calls itself New Adult, while the other two don't. But Books' heroine appears to be in her twenties. So, it very easily could be, and Douglas doesn't specify in the blurb. But I'm anticipating a lot of early twenties female leads and growly wolf love interests. (We'll have to wait and see if I'm right or not.)
To be a little more detailed, here are the actual blurbs: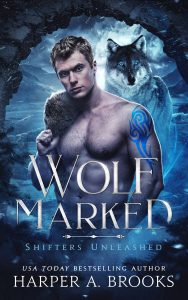 Description:
The cycle of the moon can bring love… or death.
Time is running out for Astrid. If the wolf-shifter doesn't find her soul's mate before her twenty-fifth Blue Moon rises, the consequences will be fatal. With only three weeks left, things aren't looking good… until Erec, a smooth-talking rogue wolf, lands at her feet.
The strange spark between them leaves Astrid wondering if this mysterious man could be the one meant to break her curse. But can she trust him?
From the moment Jerrick killed the only man Erec ever looked up to, Erec vowed to stop the crazed wolf. Partnering with the west-side pack seemed the logical move to accomplish that goal. But he never expected to fall for the alpha's beautiful daughter, and now this lone wolf is wondering if she could be the one to save him from the curse.
With imminent dangers looming and the swirling patterns on their skin marking them for death, can Astrid and Erec save the west-side pack from the encroaching pack before their last Blue Moon rises in the sky?
---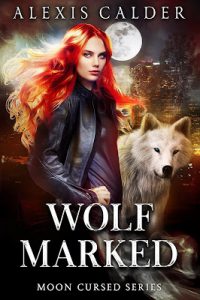 Description:
They tried to break me. Now I'm going to break them.
Cursed to never shift, the only thing I was looking forward to about the First Moon Ceremony was that the magic sealing me into Wolf Creek would break, and I could finally leave.
Instead, the ceremony reveals my true mate: Tyler Grant, future leader of my pack and the man responsible for my most recent concussion and black eye. He's as brutal as he is handsome and fate is a bitch to put us together.
There's a rumor that a mating bond could break my curse and just as I'm getting my hopes up, Tyler destroys them all.
Instead of bonding with my mate, I'm beaten and left for dead.
A hot-as-sin feral shifter finds me and helps me back on my feet. But his help comes with a cost and I'm not sure I'm willing to pay the price.
With my former pack hunting me down, even an enemy might be a better ally than trying to stay alive on my own.
---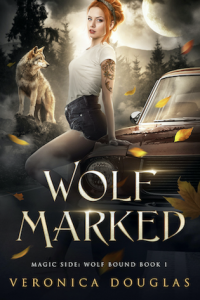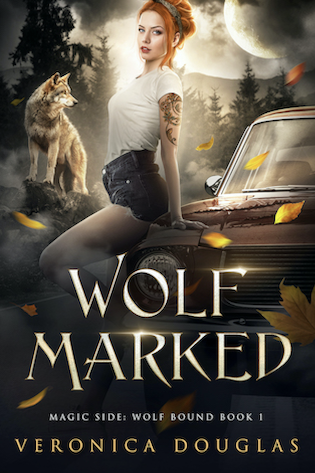 Description:
Werewolves are hunting me down.
I was just an ordinary girl working tables in small-town Wisconsin. I had no idea magic was real. That was, until I backed my car over a werewolf a couple times.
In my defense, the wolf was trying to murder me, and I was all out of mace.
Now I've got a pack of rogue wolves on my heels, and the only one who can protect me is Jaxson Laurent—the Chicago Alpha. He suspects I'm special and can't take his eyes off me, but the problem is—he's the sworn enemy of my family and every time we get close it feels like something is going to rip out of my soul.
With danger around every corner and wolves howling in the night, I need to master my magic and stand my ground, or I'll be dead before the next moon rises.
---
Stay tuned to see how it all plays out!