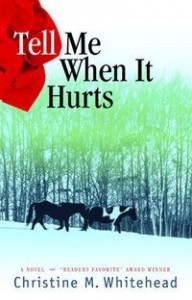 I grabbed Christine Whitehead's Tell Me When It Hurts from the Amazon KDP list. At the time of posting it was still free.
Description from Goodreads:
Archer Loh, Ivy League grad and Olympic rider, has been carefully groomed to be a government assassin but, at the moment of decision, she instead chooses law school, her college sweetheart, and a quiet life in Connecticut, leaving her violent apprenticeship behind as her own little secret.
When her only child is murdered and the killer goes free on a technicality, Archer ditches family, career, friends and horses to find justice. Brushing up on her lethal skills, and aided by a shadowy and well-heeled vigilante group, she tries to find meaning in her pain and a reason to keep taking another breath by implementing private retribution.
At her lowest ebb, Connor McCall, Harvard-educated financial baron turned Wyoming sheep rancher, stumbles into her life, bringing with him his own demons. And everything changes.
Review:
I'm a fairly dedicated Fantasy and Sci-Fi reader, but I was in the mood for something a little more down to earth so I picked up Tell Me When It Hurts. Granted, I was expecting a little more The Long Kiss Goodnight or La Femme Nikita than The Horse Whisperer, but it was still a sweet story. I teared up more than once, rooted for the characters and was pleased with the ending.
Archer was mired in guilt and in constant emotional turmoil. She was a little horrible, but who could blame her? Not me. Conner was…oh, Conner was just marvellous. He was one of the best characters I've come across lately. I loved him. He sooo deserved to be happy. There were also a whole host of small-time side characters who all had an important role to play and you couldn't help but like them.
The above sentence, with the movie/book references in it, would fit nicely into the Tell Me When It Hurts. There are a lot of them in the book. It's a game the characters play, and by extension so does the reader. It was kind of fun and I suspect that there were even more than I was able to catch.
The book did drag a bit in the middle. It wasn't that nothing happened, in fact a few small but important things occurred. It was just that for a little while there it became a string of mundane occurrences, Christmas shopping, getting the mail, walking the dogs, etc. I know that this was sort of the point. The characters were falling into a life together, but I'm used to a bit more action and was relieved when things picked back up.
The book would definitely appeal to fans of Nicholas Evans more than those of Robert Ludlam, but I recommend it for anyone who likes a story about the resilience of the human spirit and overcoming personal tragedy.