I received a copy of Genex of Halcyon (by Joshua Stelling) from the author, for the purposes of a review.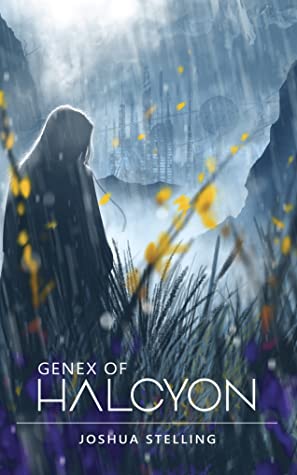 Description from Goodreads:
In this near-future utopia, in Halcyon all are free. People with wings fly alongside skyline railcars, between the towers. They are more than what we've known as human, the next stage of our evolution. Amid the psychic computers and genetic freaks, competitive laser sports and mindless bots, runs a love triangle stronger than death itself. Over these three nights in 2051, Harmony and Azad must find their way through misfits and prophets, blood and tears, to new horizons. Their fate, in the time of climate change, in the afterglow of the rise of machines, is entwined with the world.
Review:
I went into this with really high hopes. The cover is gorgeous and the obvious work that went into it carries on into the inside—nice paper, pleasant font, good enough editing. The physical book is slick.
Unfortunately, about a dozen pages in I said to my husband, "I think this author wants to be a poet, instead of a novelist." (I was therefore not surprised to find a selection of Stelling's poetry at the end of the book.) By page twenty, I wanted to be done and not have to read anymore. Because here's the thing. I don't care how pretty or lyrical writing is, what works in a page-long poem is unbearably pretentious and damn near unreadable over 212.
I spent most of this book confused and, since it's written more like a series of interconnected vignettes than a flowing plot, I was wholly uninvested in the characters. Then, the entire thing ended in tragedy. Of course, it did. Because an author who thinks his pseudo-cyber-mystic ramblings practically in stanzas, using a teen girl's sexuality as the harbinger of doom, as men go around and tell women things and women raptly listen, would think the only acceptable, intellectual enough ending would be a meaningless tragedy. Of course. I think there might have been an interesting world here, but frankly, I couldn't find it in the actual writing.