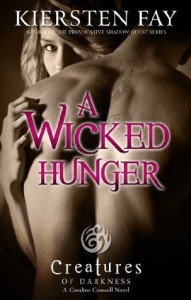 Author, Kiersten Fay sent me an ecopy of her PNR novel A Wicked Hunger.
Description from Goodreads:
A hundred years after vampires revealed themselves to the masses, the world is still recovering from the hysteria and war that devastated much of the Earth. And though peace has been brokered between the human and vampire nations, it is tumultuous at best.
Orphaned at the age of ten, Coraline Conwell has struggled to survive a turbulent existence growing up alone on the harsh streets. Until a wealthy man provides an escape from her vagrant life by offering his hand in marriage. Out of place in the upper-crust world, Cora has done her best to adapt to her new role as wife, but when her husband is brutally murdered, she is ripped from her secure life at the hands of the Vampire Enforcement Agency.
Now her survival teeters on the whim of a brutally handsome vampire named Mason as she is hunted by those who would see her dead. She must keep unwanted desires for the sexy vampire from leading her down a dangerous path while she discovers there is more to this world, and herself, than she could have ever imagined.
Review:
I generally really enjoyed this book and I'll get to the reasons why in a moment. But before I do, I have to rant a moment and say I was leaning toward giving this book four stars right up until I reached the end and it didn't end. Seriously! WTF? I understand that as part of a series some threads have to be left open in order to link the books together, but nothing concluded in this book. NOTHING. In fact, a brand new character was introduced on essentially the last page. THE LAST PAGE! You just can't do that and expect readers not to get irate. You just can't. **Deep breath**
What I did like was the writing. It's smooth and easy to read. I noticed one or two misused words and/or typos, but very few. I also thought that Mason was to die for. I adore seeing a tough guy go all weak at the knees over a female. Cora was an interesting mix of frightened and strong willed. I liked her well enough. I even found Knox to be a curious character and he appealed to me. However, unless he ties in and becomes integral to the plot in later books, the drama around him read very much like a pointless distraction that diluted the storyline. The time would have been far better spent staying on track with the original plot-line (which was essentially dropped, BTW) and actually wrapping something up, IMO.
So my final word on the matter is that A Wicked Hunger was an interesting read that left me incredibly unsatisfied at the end. It's well written with some engaging characters, but I just really need a conclusion of some sort if I'm going to walk away happy.