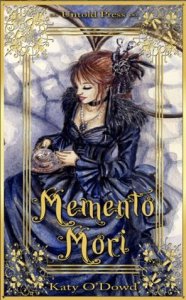 Author, Katy O'Dowd sent me a copy of her novel Memento Mori.
Description from Goodreads:
Take tea with the Victorian Mafia – organized crime has never been so civilized 
Revenge is a dish best served cold. At the Lamb residence, it is also served on fine bone china. 
The untimely demise of Thaddeus Lamb leaves his son Riley in charge of the vast Lamb empire, which imports tea, picks pockets, extorts, and keeps men warm on cold winter's nights. And so the Lambs grieve for their father in the best way they know how… Retribution. 
Hired by the new head of the Fox Family, a position recently vacated by another untimely demise, the assassin O'Murtagh is tasked with the utter destruction of all the Lamb Family's business associates. They learn the hard way that there is no better hit man than a beautiful woman with tricks and weapons up her finely coiffed sleeves. 
Treachery and deceit abound in the streets of London, and no one is safe. Honestly, it's enough to make anyone drink. Would you care for one lump or two?
Review:
Memento Mori is an ambitious novel. Taken on by a less talented writer, I think it could easily have been a flop. So many intricately woven plot points going back and forwards in time and revealing small clues before tying them all together in the last few pages surely too immense skill to keep straight, let alone produce readability. But O'Dowd manages it.
While I had a hard time warming up to Sunday (she's not exactly the warm and fuzzy type), she is a marvellous assassin. (I joked at one point that she is the assassin Celaena Sardothien, from Throne of Glass, wanted to be.) So often female assassins in literature are shown to be emotionally crippled by their work in ways male assassins never are. Even authors who set out to write kick-ass killer heroines seem to feel obliged to maintain some semblance of the feeble female who can't quite separate herself like a man. I often find myself irritated.
Sunday's professionalism trumps her emotions time and time again and I appreciated this about her. And O'Dawd also never excuses Sunday's unladylike profession by ensuring all her victims are monochromatically bad. I came close to tears over a mark at one point and actually cried at another. Oh, how I love an author who lets likeable characters go.
Similarly, I have never come across more likeable villains than the Lamb brothers and their dandified muscle, Michaels and Davids. They're seriously bad men, who you just can't help but like.
Despite all of the unexpected ways these characters' lives intersected and the amazing writing it took to bring it all together, I did think the book drug for a while. Everything is told in a sort of staid, mellow tone that flows nicely but never really grips a reader. You meander toward the end instead of race to it.
It ended well though. By which I mean there is an actual ending. It's definitely open for more, but it's not a precipitous cliffhanger. Having finished the book, I feel I've satisfactorily finished this part of the story too. Definitely worth picking up if you like Victorian mob stories with light steampunk elements.