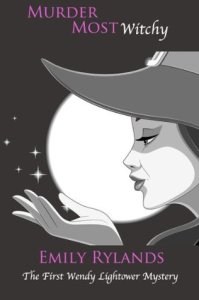 I downloaded a copy of Murder Most Witchy, by Emily Rylands from the Amazon free list.
Description from Goodreads:
The Lightower family has been hunting down paranormal phenomena in the small town of North Harbor for generations. Unlike the rest of her family, Wendy Lightower has never dreamed of chasing evil witches or unearthing magical secrets. Her greatest ambition in life is to be a full-time librarian and leave her witchy roots far behind her. But when a murder is committed in her very own library, Wendy cannot ignore that there is no natural explanation for the killing. If the killer is to be caught, she must call on family and friends alike to solve the magical murder. 
When she chose books over boogeymen and libraries over lycans, Wendy thought she would finally be able to live a 'normal' life. Now, her library is no longer the sanctuary she imagined it to be, and there may just be a killer hiding in the stacks.
Review:
This was cute but a little on the slow side. While I never quite achieved boredom, it never grabbed me either. The murderer was obvious from the beginning, though thankfully not as obvious as the red herrings might have been. Unfortunately, even they were so obvious as to be too obvious and therefore easily dismissible.
The characters were fun but not deeply developed and a little on the cliché side. The outline of a love-triangle felt unsupported and annoying (especially since I couldn't figure out why she even considered one of the men). There was no significant world-building. So, while it was entertaining it all felt very much like fluff.
The writing itself was straightforward, though the occasional abrupt shift in POV was jarring. There did seem to be a need for some further editing. I caught a lot of small mistakes, little things like the 'witch trails' instead of witch trials. Perfectly readable, but also distracting.
All in all, not a bad book but not great either. Kind of a witchy, cozy mystery. I'd read the second if I found it free, but I'm not rushing out to buy it.