I picked up a copy of C.D. Gorri's Charley's Christmas Wolf as an Amazon freebie, in order to add a little paranormal to my otherwise Contemporary Romance heavy Christmas Reading Challenge.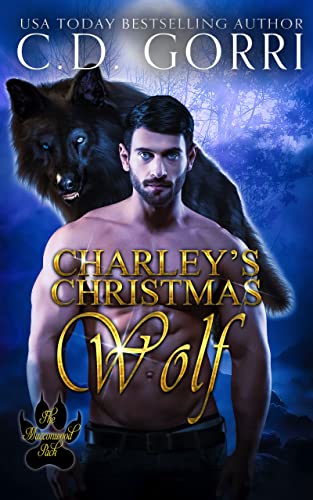 Rafe Maccon is the Alpha of the Macconwood Pack, for now. His rule is being questioned by a rogue Wolf who wants him ousted for breaking an ancient law that states the Alpha must be mated!
He must find a mate in order to keep his position. Seeing their Alpha in trouble, Rafe's Wolf Guard take it upon themselves to find one for him.
Charley Palmieri works a dead end job and lives alone with her cat until one night when her world is changed forever.
Instant attraction sparks between them. Can Rafe convince Charley to be his before the meeting of Pack elders on Christmas Eve? Will she be his one true mate, for life?

I've mentioned before that years ago, before we had kids and evening responsibilities, my husband and I used to indulge in something we called Good Wine, Bad Movie Night. The idea was that there is a certain brand of cheesily bad movie, that when watched just a little drunk turns marvelously horrid. So, one of us would pick up a Good Wine (or what passed for good for a broke couple) and the other would pick a Bad Movie. Then we'd drink and be merry. We watched a lot of B-grade sci-fi and questionable anime. But it was fun.
I mention this memory because Charley's Christmas Wolf has many of the same qualities as the bad movies of Good Wine, Bad Movie Night. It is bad. There is no getting around that fact. We're talking the heyday of Ellora's Cave bad. But there is also something gloriously indulgent in accepting it for what it is. You have to laugh at it, but stop short of doing so mockingly, because it knows what it is. It's not trying to be something else and you have to respect that.
The whole thing is super rushed. The love is instant. There is no character or plot development. The sex is questionable. The book tries to be both a dub-con and a hot romance and fails at both. The dialogue is atrocious, etc. But throughout it all, if you take another sip of wine and relax into it, it's worth the good-natured laugh.