I picked up a copy of Solstice Surrender, by Tracy Cooper-Posey, way back in 2013 and it's been chillin' in my cloud ever since. This year, I thought the solstice might be holiday-like enough to be included in my holiday reading challenge.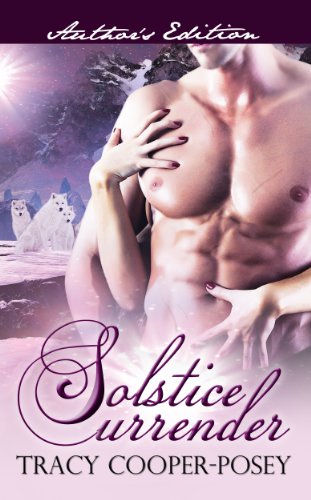 For Special Investigations Agency Operatives Destiny Tremayne, Jenna MacDonald and Nur Aydan, Christmas isn't all about celebrating.
Jenna MacDonald, cynic extraordinaire, flees to Banff, Canada, for the holiday season to lick her wounds in private after an assignment takes a tragic turn. But trouble manages to find her even in the heart of the Canadian Rockies. A mysterious stranger called Rhys Cellyn exerts a powerful influence over her mind and body, while Jenna struggles to stay afloat in the mythical world he plunges her into. Time is against her, for at the moment of the winter solstice she must make a fateful choice.

I'm going to get housekeeping out of the way first. I read this as part of my Holiday Reading Challenge, thinking that being set during the solstice might give this a bit of a holiday theme. But it really doesn't. The solstice is important to the plot, but not in any sort of holiday-related way, not even a solstice holiday. So, it's kind of a failure in that regard.
Moving on to the review itself, I knew I was in trouble when I read the note in the introduction that mentioned that this book had originally been written as a novella for an Ellora's Cave anthology. Ellora's Cave had a pretty predictable story format—lots of sex, very little plot. Cooper-Posey said she'd expanded the novella into a short novel, but I didn't expect the sex to plot ratio to change. I was right, it didn't. And while there was a time I quite enjoyed such books (that's how I knew what to expect from Ellora's Cave), now is not the time. So, I spent a lot of this book skimming.
I will assert that this was better than most of what I read from Ellora's Cave, but it wasn't very good when judged on its own. The writing wasn't the issue. Other than a disconcerting and anachronistic tendency to use "for" in sentences, the writing is actually fine. The editing had a few hiccups, but nothing egregious. It's just that the plot is so very thin and there is so very very little character development, world-building, romantic build-up, etc that the story barely holds together. And then there is a ton of sex to further destabilize it all.
So, I'm just gonna have to go with "Meh" for this one.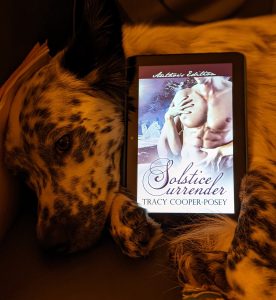 Come backlater this afternoon. I'll be reviewing Charley's Christmas Wolf, by C.D. Gorri and tomorrow when I'll be reviewing The Problem With Mistletoe, by Kyle Baxter and Fighting For Us, by Bella Emy. Yeah, I've had to star doubling up to fit them all in by Christmas.