I keep saying that I don't read short stories, but I'm apparently a liar, because I seem to download a whole heck of a lot of them. Today I made an effort to read a few and chose erotica as the theme. Be warned, some of these are not for the faint of heart. Then again, some of them turned out not to be erotic at all, just incredibly sweet.  Most of them came from the Amazon free list and may still be free.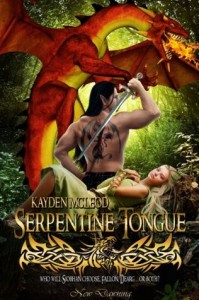 Serpentine Tongue, by Kayden McLeod
Eh, it was OK I suppose. I imagine some people will really enjoy it. Personally, I found it to be a continuous string of painful fantasy & romance clichés. I found myself cringing after a while. But I'll be the first to admit these tropes are so frequently used because people generally like them. So there will be a subset of readers who are thrilled to see so many of them together in one place. I'm just not one of them.
I did very much appreciate that Siobhan was a truly strong female lead. She was equally as strong as the male leads; certainly, she was given more time to demonstrate her strength. There was one fairly mild ménage scene (the only sex in the story) that I liked well enough. I even liked all three of them…I think.
I say I think because they all felt a little shallow and could have done with a little depth. I also found some of the language stiff. Part of this was the effect of 'fantasy language.' Yes, I made that phrase up, but I imagine any frequent reader of high fantasy will recognise what I mean. The fae always seem to be written to sound posh, for example. But some of it was just stilted writing.
All in all, I don't consider this one a fail, but I'm not rushing out to find out if there is a sequel either.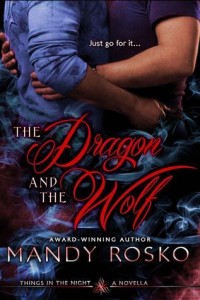 The Dragon and the Wolf (Things in the Night), by Mandy Rosko
This was almost good. It started off well and remained good for about 2/3 of it. Then, seemingly out of nowhere, the pace skyrocketed, the romance popped into existence out of the ethers apparently, there was an almost sex scene (or rather, there was sex just no sex scene, leaving me feeling cheated) and then the whole thing just ended. It felt very much like the first couple chapters of a longer piece, as opposed to an actual short story.
I could try and excuse it as a prequel, but it's not the first in the series and the sequel is about another couple entirely. This suggests to me that there isn't to be much more of Westley and Chris' story, even if they do happen to be in the next book.
The writing seemed pretty good, but it's a teaser at best.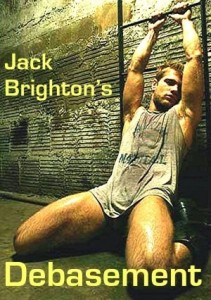 Debasement (His Nemesis #1), by Jack Brighton
In theory I thought the dirty debasement promised in book would be hot, but the reality of it…or rather the reality of reading it was more than I could actually stomach. It was everything it promised, true—rough, kinky, abusive, and at some points arousing. But I just couldn't get down with spitting in your partners face during sex, and other such not sexy things (even if the MC was a dislikable character). I may have liked it if it hadn't been taken quite so far. This is of course a personal line. But I found that this one way overstepped mine and I didn't particularly enjoy it.
This is not a book to be taken seriously, not at all. I mean really, a female pirate who likes to get caught…because being caught apparently equals sex. I guess it never occurred to anyone to just shoot thieves. Go figure. It's ridiculous. Having said that, it's supposed to be and when taken with the appropriate truck load of salt it's a lot of fun. I noticed a few typos and at 38 pages it's not very long, but it was an enjoyable quickie. 
On an unrelated side note, except for the fact that this short was apparently later expanded into a longer piece involving cats, I have no clue what the lion on the cover is about. There's not a single cat in the book.
I was surprised by this one. I had VERY low expectations, but ended up enjoying it. Despite one character being blindfolded and tied to a pole it managed to avoid feeling like (or being) rape. Amazing that. I liked Christopher's shyness as well as his dominant streak. Hard to imagine the two in the same person, but it worked. I got less of a feel for Logan, but liked what I saw. It well written and fairly well edited.
I do have a complaint about it being the first in a series. I seriously dislike serial short stories. If you're going to write the pages anyway, why no just publish it as a book so I don't have to buy each chapter? When it comes down to it, that's what I see a short story series as—a book you have to pay each time you want the next chapter. The fact that it's called an instalment is just semantics, IMO. I refuse to buy subsequent chapters on principle. Then again, it's possibly a stretch to call this a chapter even, it's more like a 29 page scene and little more.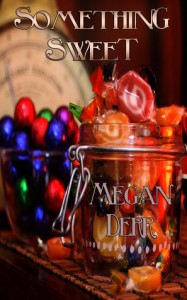 Something Sweet, by Megan Derr
This was a very short, very sweet clean M/M read. I enjoyed it. There were quite a few editorial errors—swapped names, missing words, etc. But they didn't detract from the "awww" effect any, or how much I liked Sherlock and Basil. They were like shy little boys all grown up…ok, that's exactly what they were. But it was still fun to see. It passed a pleasant 20 minutes. This wasn't the first Megan Derr story I've encountered and enjoyed and I expect it won't be the last, especially if she keeps them on the free list.