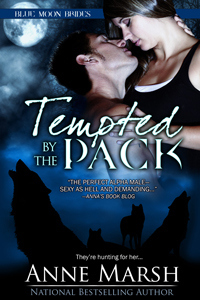 I grabbed Tempted by the Pack, by Anne Marsh, off the KDP free list. At the time of posting, it was still free. 
Description from Goodreads:
Once in a blue moon…
For Rafer Breaux, life in the Louisiana Bayou is harsh, violent—and deeply sensual. The Cajun werewolf lives for his Pack and he'll do whatever it takes to keep his brothers safe. The longer a wolf lives without a mate, the harder it becomes for that wolf to shift back. To remember that he is a man—and not a monster. And those mates can only be found during a blue moon. When a blue moon finally rises, Rafer will need every weapon in his sensual arsenal to tempt one special woman into his arms and the heart of the Pack.
The Pack hunts for mates
Fighting to keep her family farm, Lark Andrews isn't looking for love. Even if the very sexy Breaux brothers make her dream of hot bayou nights spent in their arms. When the blue moon leads Rafer to her door, however, Rafer has her rethinking her position on all work and no play. Now, the bayou nights are heating up as Rafer fights to convince her, one sensual touch at a time, to give love and passion a chance. But Rafer isn't a one wolf deal. Is there room in Lark's heart—and bed—for Rafer and his Pack?
Review:
I'll give this 4 erotic stars. 'Cause we all know to expect a little less from an erotic title. There wasn't a lot of character or world building. There wasn't any time for the characters to get to know each-other and there was only a brief wrap up at the end. (The vamp issue seemed to just disappear.) But honestly I don't expect anything more from erotica. What I did get from this book, which was more than I expected, was some really good writing outside the sex scenes. I don't mean to say the sex scenes weren't well done. They were fine. But the first couple chapters leading up to the meeting of the pack, claiming, and lots of sex were surprisingly good. Much better than a lot of others. I especially liked the use of regional dialect, without it being so heavy as to feel forced.
I did have a little trouble getting my head around the idea of Lark mating with a single werewolf but having sex with the whole pack. It felt very much like the author was trying to eat her cake and have it too. IMO, Lark needed to mate the pack or mate a single member of the pack. Trying to accomplish both was too much. I was also repeatedly irked by Rafer being referred to as Alpha, when he was the Beta of the pack. I get that this was being used as an adjective not a title, but it still irritated me.
Despite a few complaints here and there, I basically enjoyed Tempted by the Pack. The whole vampire/werewolf drama was given a new twist that would be fun to see expanded on. I'm looking forward to more of Anne Marsh's works.